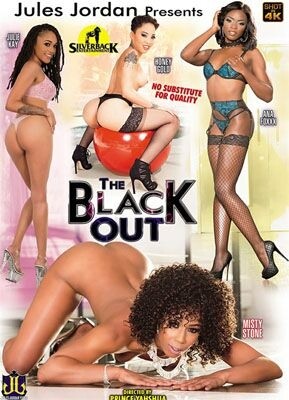 Prince Yahshua does double duty as director and performer, separately banging four black beauties in this grinding gonzo from Jules Jordan Video.
Foxy Misty Stone is first, with her tight spinner's body, and the Prince makes good use of this fine-ass bitch. After the usual glam stuff, Yahshua descends on Stone with bone, with our girl offering up a fantastic deepthroat BJ, followed by a great doggie session, with Yahshua slamming those choice cheeks hard. Missionary gives us a sweet view of Misty's delicious body. Cowgirl, including some squatting action, gives more horny cheek-jiggling action. I also like how she groans, "Oh my fucking goodness," over and over again. There's more doggie and mish before Prince blows goo onto her tongue. Stone's the shit.
Hot Ana Foxxx is next, giving the Prince X-actly what he wants (us, too!). Foxxx is another excellent cocksucker — don't miss her tongue-under-the-shaft action during her loud, gnarly deepthroating. When Yahshua doggies her, it's deep and hard. She maintains her garter belts, by the way, making the sequence all the more arousing, while beautifully highlighting her luscious ass cheeks. After mish there's more pounding doggie, followed by bouncing cowgirl stuff, with Ana really knowing how to work that pink pussy o' hers. Fine whore!
Tattooed Honey Gold is another all-natural black babe who suck-cessfully worships the Prince's bone. Aside from an awesome booty, Honey has some amazing headlights. I especially love how she gives a slow, attentive, sleepy, slutty blowjob, and it's one of the movie's best. Very creative with her mouth, that Honey. Like Ana, Honey also keeps her stockings on, making her doggie drilling all the more horny, while, again, beautifully spotlighting her butt cheeks. And the doggie goes on (yes!) for a good long time. Cowgirl is nothing to scoff at, neither, as the bitch knows how to rotate on gristle. Love how her eyes roll into the back of her skull during missionary, too. He gives her more doggie, and she's got such an all-around great attitude, loving every inch of it, that it's a joy to see Honey in action. And once the Prince blasts boy batter onto her face, Honey lets it drip all over her fine titties. I wanna marry you, Honey, you hot bitch you.
Lastly, we have the pretty Julie Kay, displaying her own form of unique sexiness, including a pair of marvelously sloppy tits and one equally applaud-worthy ass. And, yes, she's another magnificent deepthroater, producing the most spit of all four ladies. I'm talkin' a lotta so-live-ah! It's a beautiful thing! To get the balling rolling, the Prince goes straight for the doggie, and I love how Julie's hangin' tits just sway this way and that in this position. She likes to keep the deepthroat goin', too, whenever she can, which is totally cum-mendable. Her tits also swirl during missionary, while cowgirl offers beat-worthy views of her delectable derriere, which is undulating all over the place. Yep, she's another good girl with a great attitude, eventually swallowing all o' Yahshua's gametes straight down her tender gullet. A truly model slut!
These four black bitches know how to suck and fuck, and, hey, the Prince is one lucky bastard. It's too bad he had to pay for all o' that molten sex.
Synopsis:
Misty Stone begs for more as Prince pounds her tight pussy. Ana Foxxx can't get enough BBC. Honey Gold shows off her BJ skills then rides Prince til he explodes. Julie Kay's perfect body is built for sex.