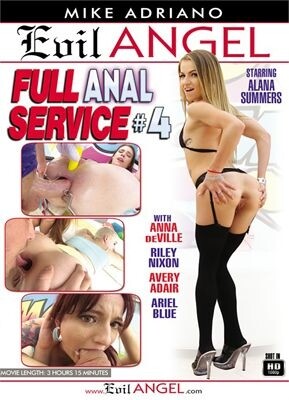 Here's a truly awesome group o' four fudge-factory scenes (with a whoresome foursome of anal tramps and one ATOGM vixen!) from performer/director Mike Adriano and Evil Angel Video.
Riley Nixon and Avery Adair are up first, with Nixon doing the anal doo-duties and Adair providing a hungry mouth for ass and dick licking, as well as ATOGM skills. Adair (any relation to Red?) has such a perfect body, I can't wait to see her in an all-out sex scene. Anyhow, after Adriano sucks the ladies' asses and pussies for a good long time (lucky SOB!), Adair starts the blowjobbin' before she shares with Nixon.
There's some good cock-choking action by both ladies, with plenty of stringers. Nixon is the first to eat Adriano farts, while Avery is sucking his shaft, then they switch positions. We next have Riley getting anal-ized doggie style, with ATOGM care of Avery. But what's with Adriano wearing mittens here? Go figure. Some amazing gapers from Riley ensue. Ditto for missionary anal a la Riley, with Avery sucking a little Riley rectum. Hoo-ray! Spoon anal beautifully highlighted Riley's juicy ass, and Riley is just so damn chipper throughout the scene! It's great, too, when Adriano shifts his overworked worm back and forth between Nixon's pussy and pooper (love it!), eventually blowin' into Avery's mouth, with Adair sharing the spunk with Riley girl. How sweet.
Next, Ariel Blue has a big, pear-shaped ass, which looks amazing bent over, and which Adriano puts to good use. I love how she winks her ass at us during glam. She's an attentive deepthroater, too, with nice tongue action under the shaft; while she doesn't at all mind feasting on Mikey's farts. He soon slams her anus doggie style, with some good overhead shots of the backdoor action, including some memorable butt-cheek flappin' and some equally impressive gapes. Blue's not one to shy away from an ATM, either. During spoon anal Adriano cums into her famished mouth. Yep, Ariel is definitely one of my faves amongst this filthy group o' five floozies.
Next is anal spinner Alana Summers. Cowgirl anal is choice here, with Alana's fine ass all greased up and bouncing, culminating (after many nasty ATM's) with doggie anal, which is great but a wee bit too short for my perverted taste.
Lastly, Ana de Ville is featured, and this sleepy-eyed anal whore is my fave of the entire lot o' slots. Adriano immediately puts a speculum up her ass, which offers us an unmoving gape, followed by a natural gape as he yanks out the speculum. He soon jams his prick deep up her shithole. "Let me taste my ass off your dick," she moans. What a slut! Love it when he squirts oil into her open anus. And check out her distended anus during gapes. It even winks at us! This hippy-looking babe rocks!
"How does your ass taste?" he asks her after an ATM. "Delicious," she coos. She's a dreamy deepthroater, too. Ana loves, in fact, to deepthroat for a good, long time, with lots of thoroughly rude noises. Cowgirl anal is greasy and gapey (a new word for ya), offering us a rosebud at one pooey (another new one) point. During mish (which shifts to pretzel), Mikey spreads her anus open with a weird metallic speculum, through which you see way, way in there. He totally fucks her with this open-holed speculum, or whatever the fuck it is, allowing Ana to maniacally rub her moist twat. It's a truly frozen gape. He continues to fuck her ass this way, while she's jamming a little yellow vibe in and out of her cunt, with Mikey soon spurting sperm onto her stomach. A not-to-be-missed scene! Love ya, Ana!
"Full Anal Service 4" is as filthy and dirty as it gets. Do not miss this butt-fuck whore epic.
Synopsis:
In Full Anal Service #4, racy young models requiring back end attention bring their asses to rectal master mechanic Mike Adriano for rear chassis overhaul. Perverse maneuvers with toys and Mike's enormous tool stretch, explore and tune up the finest, most insatiable butts on the street. First is a threesome starring gorgeous Riley Nixon, whose hair is cropped super-short, and her cute girlfriend, Avery Adair. Mike sodomizes Riley and Avery gags on his prick ass-to-mouth; the nasty girls orally swap semen. Thick, lovely Ariel Blue tongue-cleans the director's bunghole. He gives Ariel's pale, phat booty a reaming to remember. Petite, cute Alana Summers stands only five feet tall; Mike fucks her face and thoroughly shafts her little, round derriere. Pale, natural Anna de Ville loves getting her asshole bored out! She performs some breathtaking anal winking and enthusiastically takes Mike's dipstick in her rear crankcase. He wrecks her sphincter with some intense speculum action.
close
E-mail this to a friend
Full Anal Service 4
Email sent. If you wish to send to another person, click here.