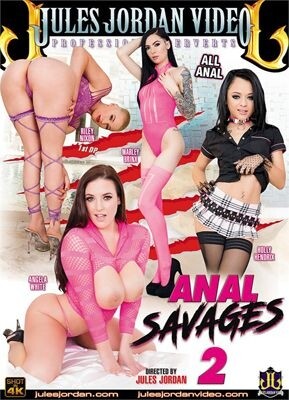 Hot harlots get their bungholes busted via man gristle in this volcanic Jules Jordan Video backdoor orifice offering.
And the gonzo begins with a blast, as the ever-gorgeous Marley Brinx gets her shitter handed to her on a cheap platter by James Deen. Brinx is an X-cellent cocksocket, with plenty of spittle when giving a BJ. By the way, I'm glad director Jules Jordan doesn't bypass the pussy in this anal vice venture, as there's some good missionary and doggie vaginal on the arm of a sofa (how porn-like). Missionary anal gives us plenty of gapes (still on that sofa arm), while spoon anal similarly rocks, which includes (finally!) an ATM. Doggie anal is next, with many more gapers. Reverse-cowgirl anal offers more bung drilling and rectum reaming; followed by sideways RCG, a charming ATMer and a romantic splat o' cum onto Marley's beautiful mug.
Next, huge-boobed, big-butted Aussie lass Angela White is paired up with Criss Strokes, who really puts her through the paces. I really love White's arousing purple fishnet outfit, which whorishly highlights her amazing all-natural headlights. A marvelous deepthroater, White also eventually wags, massages, rolls her big pillowy tits all around Strokes' cock (lemme tell ya, that really looked like fun!). Doggie vaginal has her tits floppin' all over the place; ditto for reverse-cowgirl, which includes some great shots from behind of her jigglin' ass cheek-a-roos. Her juicy butt during cowgirl is nothing to scoff at, neither, and it's at this point where Strokes sinks his stinger into her stinker, with her slightly greasy skin (guess it's the sweat) making her buttocks look all the more delectable. After a famished ATM from White, we get doggie anal, which is incredible, including a few choice gapes. Here, Strokes really yanks Angela's long locks while jammin' sausage into charcoal pit. RCG anal has some terrif gapes, as(s) well, with Strokes going back and forth between her crapper and cunt. And after spoon anal, Crissy boy pulls out his worn-out worm and blows bubble cum all over White's tits and tongue. Angela dear then licks the gunk offa her chest, and some offa our boy's soiled snake. Nice.
A volcanic DP care of Riley Nixon is next. After some effective black and white glam footage, which eventually/effectively transforms into color, this fair-skinned, punk-haircutted babe, with plenty of health and meatiness, is attacked by John Strong and Steve Holmes. After a standing double-suck, she lets Holmes attacks her cunt doggie style (still standing). The trio eventually moves to a bed, on which Strong himself doggies her, while she sucks the ever-grinning Holmes. Strong eventually crams his meat puppet up Riley's rectum during missionary, which shifts slightly into spoon. Next we have a doggie DP, Strong back in the poo pit. The chick, by the way, really digs her harsh treatment and doesn't at all mind ATMs. Next we have RCG DP, which is awesome, as we get to absorb Nixon's meaty thighs. We even get a standing DP, with Strong in the dung ditch. During missionary, the lads pull a train on her tukus and then each, separately, creampie her crapper. Watch, too, how she pushes the gunk outta her dung ditch and winks at us. Love this whore!
And we most definitely end with a bang, as little Holly Hendrix takes it deep up the kah-kah cave from returning anal savage Criss Strokes. Hendrix does some playing with a green dildo stuck to the top of a glass table before she gets the real thing from Strokes. Yes, she's a great cocksucker, deep and nasty, going right to the base of boner. After some pussy pounding, Strokes sticks it up her ass spoon style. She likes getting choked and kissed, by the way, and simply adores ATMs. During missionary anal, Criss goes back and forth between her cunt and crapper. Doggie anal on a swivel chair is a scene highlight. And, brother, you just can't fuck Holly's heinie deep enough! Strokes does some stool-pushing on the same stool, before he blasts batter onto her face. Awesome.
"Anal Savages 2" ab-so-fucking-lutely lives up to its filthy, great X-pectations of a title. Get it!
Synopsis:
Ball Blasting, Semen Spraying, Hot Anal Sex! Emo hottie Marley Brinx gets her asshole ravaged by James Deen. Busty Aussie Angela White can't get enough hard cock in her ass. Riley Nixon is double teamed and double stuffed for her FIRST DP. Anal Queen Holly Hendrix begs for a huge cock in her tiny asshole.