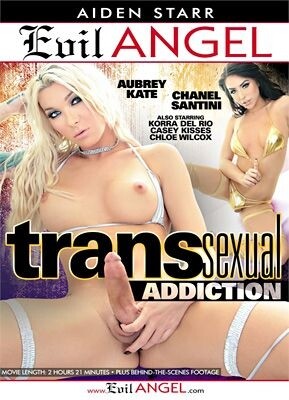 Aiden Starr is a woman of many talents, and delivering some delicious T-girl on T-girl (and T-girl on cis male!) action is just another art she's mastered. If you aren't addicted to transsexuals just yet, then Ms. Starr's latest offering for Evil Angel will have you positively obsessed.
The first scene is an encounter between 2017 XBIZ Trans Performer of the Year Aubrey Kate and Chanel Santini. Both girls are super sexy (love, love Aubrey's tattoos!) with rock hard dicks, and a seriously eager attitude to rip each other's clothing off. Chanel's boner is evident from the start, and it flops up and down cutely while she twerks.
The duo's chemistry is through the roof. They move in unison when they scissor, rubbing their pieces of hardened love meat together. Chanel seductively oils them both up, and allows their slick bodies to seamlessly push against one another. Each girl gets a mouthful of sausage, as well as a mouthful of ass. When they get to the penetration, Aubrey takes the rails and plows Chanel, then sweetly holds Chanel's hair while fucking her face. Both girls then get their hands on some toys to finish the scene off.
Up next, Korra Del Rio teases the camera, shaking her booty and sensually rubbing her hands across her body. She admires herself in the mirror, peeling off her undies and matching bra to reveal the cutest little landing strip — and the precum already coating her cock! Hung like a horse Chad Diamond is waiting for her, his dick just as hard. She takes his full erection easily, and he fucks her mouth roughly.
Chad gets to fuck her first. He bends her over, rubs his dick against her asshole and jackhammers. They switch to reverse cowgirl, giving viewers full access to her dick flopping while she rides him. "Fuck! That feels so good," Korra moans. He pulls out to cum in her mouth, then is immediately bending over for his turn. Korra shows she can give just as well as she can take. To end the scene, Korra begs to cum on Chad's dick and he gleefully accepts.
After that, Casey Kisses gives Rick Fantana a fucking he surely won't forget. Casey rules the scene, forcing Rick to do everything she says. "Yeah, suck that cock," she says, pressing his head down deeper on her dick (Aiden even chimes in! "Yes! That's fucking hot! That's what I'm talking about," she enthuses). Casey smiles the entire time, then devilishly grins when she bends Rick over.
"You love this big fucking cock inside you?" Casey asks, to which Rick replies, "Oh god, I fucking love it." His eyes roll in the back of his head, and his dick stays hard the entire time Casey is inside him. "Oh, it feels so good," Rick says over and over. He does get a share of Casey too, but not without her asserting her dominance first. She sticks a buttplug up his ass, and only then can he fuck her (Aiden's right, it's really fucking hot and the best scene in the flick, in my estimation).
The last scene sees the return of Chad, who is paired up with Chloe Wilcox. Chad knows how to take a dick, and he drops to his knees instantly. Chloe fucks his face quite furiously, which elicits a gasp from Aiden in the background. "Bet you didn't expect that, huh?" Chloe jokes. Aiden replies, "I like it!" (We like it too!) Then, Chloe decides it's her turn to take Chad. She lets him fuck her face. "Does my mouth feel good?" Chloe asks, her eyelashes fluttering. "Yes, tastes better at the bottom!" Chad instructs and Chloe listens.
There's ample amounts of 69 in addition to the rough fucking. Chad gives Chloe his load first. Her dick slaps against his stomach from the intensity. "You like that fat ass?!" Chloe questions. Chad nods his head. "I love that dick bouncing on my fucking belly!" The title rounds out with Chloe pistoning Chad's asshole, and then Chad coming on Chloe's stomach.
Clearly, it's a winning formula pairing Aiden Starr's enthusiasm with such sizzling sex. You're certain to develop a transsexual addiction in no time!
Synopsis:
Porn provocateur and real life fetish player Aiden Starr presents four habit-forming scenes of gender-bent prurience: Transsexual Addiction. Deliciously femme chicks with dicks date thrill-seeking men. First, two knockout T-girls share passionate, decadent lovemaking: Bodacious blonde Aubrey Kate and glamorous, gorgeous Chanel Santini trade French kissing, spitting, spanking and butthole reaming. Drenched in oil, they scissor and masturbate, greased ass-to-greased ass. The girls feed each other slobbery spunk. Next: Auburn-haired TS Korra Del Rio and Chad Diamond take Route 69, with Korra's nose in Chad's crack, and each sucks dick ass-to-mouth. Pretty faced, well hung trans girl Casey Kisses fucks boy-toy Rick Fantana's throat, loving it when he gags. They exchange rim jobs, toy play and anal drilling - Rick likes it hard. He spunks her from forehead to chin. Tall T-girl Chloe Wilcox towers over Chad as he deep-throats her thick she-meat. He gives her a choking fuck; she manhandles him, bending him in half as she slam-fucks his bunghole.