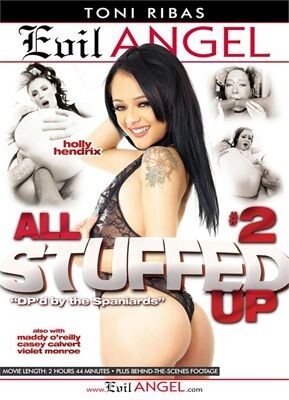 If you're jaded like me, then you need more animated, salacious, unique porn; much more than a simple BJ and customary missionary. That's why DPs always bring a smile to my face — and a throb to my boner. And with the tasty foursome of raging sluts getting their holes fully plugged in "All Stuffed Up 2," you're gonna be in double-penetration heaven here.
Dirty little Holly Hendrix is up first. Not long after a bit o' deepthroating, Holly delivers a rowdy reverse-cowgirl DP, followed by an equally provocative doggie DP, complete with double-vadge and double-anal. We even get a standing DP, eventually, if briefly. And before getting her face cum-coated, Holly also enjoys having her scrumptious ass cheeks seriously slapped; she squirts a little (licking it up offa the floor); and I just love soaking in her tight, wiry, all-greased-up compact bod.
My favorite girl is next: Casey Calvert. After a fine double-suck, Casey lets Toni doggie her, while she sucks Ramon. Casey is soon riding Ramon with her cunt, with a doggie DP following close behind (and what a behind on Casey!), along with reverse-cowgirl anal, reverse-cowgirl DP, a standing double-dipper and, yes, a few choice anus gapers throughout, particularly when our pudsters train Casey's quivering poop chute doggie style. And I like how one of the lads blows his load directly — splat! — across her right eye. Here's lookin' at ya, Case!
Now, comes Violet Monroe, possessing a killer body. After a few positions (and, yes, I like how the boys break up the DPs with a variety of relatively simple sex hook-ups like boy-girl cowgirl and spoon), we get doggie DP, including some double-vadge. Ribas employs his signature choking and hair yanking. There's even some double-ass hammering at one point, before our two gents pop on Monroe-mug.
Foxy lil' fire hydrant Maddy O'Reilly gets all stuffed up next, nicely finishing off this awesome quartet o' depraved DP dolls. With terrific buttcheeks, this meaty tramp performs a fine double-suck, really enjoys getting spanked in any part of her body (as you guessed, the boys do quite a candy-apple-red number on her plentiful posterior), rocks during doggie DP (including some two-cock probing of her sweet vadge), is similarly awesome during spoon-anal (while she, quite productively, sucks on the other fella's tool), delivers a wee(-wee) bit o' squirting, a reverse-cowgirl double-dick dunking, some double-anal plunging, numerous ATMs, and a brave face for a messy (aren't they all) pop shot — blatt! blatt! — times two. Hope you enjoyed yourself, Maddy, ya marvelous minx ya.
As nasty as porn oughta be, "All Stuffed Up 2" is great stuff! — and great stuffings! Absolutely worth picking up.
Synopsis:
All Stuffed Up #2 director Toni Ribas and fellow Spaniard Ramon Nomar dominantly double-dick hot sluts in furious threesomes. Petite, exotic Holly Hendrix likes "feeling used like a little toy." The studs roughly choke, spank and spit on Holly, who sucks feet and squirts girl cum. She's too tight for double vaginal sex, but her butthole vacuums twin tools in a double-anal reaming. Pretty Casey Calvert says, "I love giving away my control, submitting." Double penetration and double-anal plowing make her butthole gape, and she masturbates to a squirting, screaming orgasm. Thick ropes of jism spunk her eyes, nostrils and mouth. Snow-white Violet Monroe says, "I want you to stretch all of my holes open." Her wish cums true with deep-throat fellatio, DP and double-anal stuffing. Violet looks like Red Riding Hood as the boys choke her with her auburn hair. Cute, big-assed Maddy O'Reilly says, "Nothing's hotter than getting destroyed by two guys at once." She shrieks, blushes and rains girl squirt through double-vag, double-anal and DP manhandling.