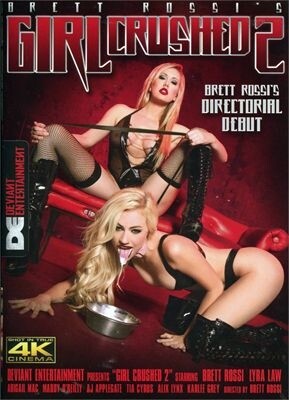 They say you feast with your eyes first, and Brett Rossi's directorial debut serves up some delicious visuals. The two-hour, all-sex feature is a fabulous display of downright dirty, hardcore fucking with some extreme BDSM touches.
Lyra Law and Brett Rossi grace the cover, looking like a pair of sexy and deviant seductresses. The duo in action is also the first scene viewers are treated to. Law, with a collar around her neck, is Rossi's perfect pet, following her around like an obedient bitch. When Rossi orders her to slurp milk from a bowl, Lyra happily does as she's told.
Blonde babe Brett pushes her around and chokes her. Before they get to the face-sitting, Rossi treats her sweet submissive to some intense toy play, using a vibrator directly on Lyra's clit. As she moans and groans, Rossi makes sure to smear her blonde buddy's makeup with rough, rough kisses. Finally, Rossi gets a chance to get her rocks off, Lyra tending to her pussy with a vibrator and her mouth. They end the scene cutely, noses bumping together as they kiss.
The second scene moves away from blonde-on-blonde to brunette-on-brunette with Abigail Mac taking on Maddy O'Reilly. Mac, despite her innocent girl-next-door looks, rocks the domme gear, looking sexy in her black corset and fishnets. Maddy, helpless, is restrained with handcuffs, her neatly trimmed bush on display. "Quiet!" Abigail instructs and Maddy quivers. Abigail shoves her fingers into Maddy's mouth to silence her, her other hand fiercely rubbing at Maddy's clit.
When they finally start fucking, it's Abigail that takes the lead. Pumping her fingers into Maddy. She mewls in pleasure, handcuffs now gone and Maddy on her back on the floor. Abigail tops her easily, squeezing Maddy's breasts hard. The scene ends with Maddy ravishing Abigail, lapping at her pussy until she cums on Maddy's face.
Up next is AJ Applegate and Tia Cyrus in an extremely aesthetically pleasing fuckfest. The scene begins in a fog-filled room with flashing lights. Donning a red crop top and holding a paddle, AJ menacingly runs the tip of the toy against Tia's thighs, which makes her leg (quite adorably, all things considered) twitch.
"I want you to beg for it," AJ demands and Tia complies, her booty jiggling with every slap of AJ's paddle. This scene pulls out all the stops, including a fuck machine, sex toys, bright lights and 69. As Tia fingers herself, writhing in ecstasy, AJ takes a seat on a different type of throne: Tia's face.
The last scene starts with the camera panning over Karlee Grey in fetal position. The scene's colors invert to hues of green, and ominous music plays in the background. When the camera zooms out, Karlee is inside a cage and Alix Lynx's long legs are now visible in the shot. "Please, Mistress!" Karlee begs. "Let me out of this cage!"
In lieu of a reply, Alix smacks Karlee's chest with her flogger. "You call that begging!? Louder!" After she's satisfied with Karlee's begging, Alix directs her to lie on her stomach on top of the cage. "The only way you're going to stay out of this cage is if you make me cum!" And so Karlee does. Alix rides Karlee's face until she cums, and then Alix fingers Karlee so well, she grips the sides of the cage.
Synopsis:
Adult Superstar Brett Rossi makes her Directorial debut in a dark lesbian fantasy of women controlling women in Girl Crushed 2!