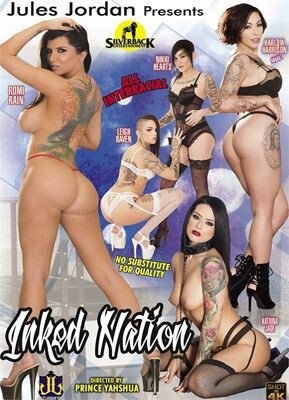 From Jules Jordan Video, "Inked Nation" gives us a quintet of fine-ass tattooed sluts takin' on the far from princely (a good thing!) Prince Yahshua.
We start with Romi Rain — and her huge, colorful back tattoo — proving that she's still one of the best blowjob artistes in the Valley; and, after Romi seriously deepthroats the Prince, he does some doggie with her, presenting some of the best I've seen in a while, in that Yahshua doesn't get in the way, giving us a full view of Romi's undulating booty cheeks. She grinds that killer ass at times, too. The cowgirl position is no less amazing, with her butt cakes simply oozing all over the friggin' place. After other rockin' positions with raunchy Romi, Yahshua finally glazes her (most elated!) face with paste. Nasty.
Next up is, like Romi, the always-welcome Katrina Jade who, after some glam stuff (as with all of the ladies featured in "Inked Nation") does the prince — her "Slut", "Daddy's Girl" and flowery left-arm-sleeve tattoos all quite visible — on a sofa, with some arousing cock-choking therapy to start her scene (she's another topnotch Valley suckette!), followed by hard-hitting doggie. Now, aside from a great ass, Kat has superb, all-natch boobs, which, thankfully, jiggle a whole helluva lot here. I love it, too, when she sits sideways on Prince pud, which is a perfect way to highlight her perfect ass cheeks. And after some more boner-bursting doggie with Kat — during which Yahshua holds her hands behind her back — he unloads into her voracious mouth. Wonderfully vulgar!
Leigh Raven and Nikki Hearts — and their countless army of tats between 'em — are punkettes who, paired with the pimp-like Yahshua, definitely make an unlikely looking threesome, but it's a way-horny romp. After some lesbo action upstairs, the girls join the Prince (and his Johnson) downstairs. He makes sure they gag on his willie during a double BJ, afterwards fully plugging Nikki in the doggie posish, then doing the same to Leigh. Both trollops have meaty asses, but Leigh's backside is much more succulent, really showing it off during cowgirl, making for some animated vice. A highlight includes the Prince stacking Leigh on top of Nikki and, moving from one choice pooper to another, bangin' 'em doggie. And after receiving an upside-down blowjob from Leigh, Yahsh blows dick snot into Nikki's mouth, with both bitches democratically sharing the brotha-load. Sweet.
And, finally, we have Harlow Harrison — and her big boobs, protuberant ass and multitude of uncolored tats (actually, a few of 'em are colored) — first giving the Prince a luxurious BJ, sans any major deepthroating, followed by some marvelously heavy bangin'. Memorable whacking moments include the mish posish, which focuses on Harrison's succulent thighs; doggie anal which is ab fab, sometimes slow and deep, other times hammering, as her big, gelatinous butt shakes every which way; some superb shithole gapin'; a few naughty ATMS; some excellent jackhammering of her poop chute during mish; and a cunt-cluding creampie during cowgirl position, with Harlow lickin' up any excess sperm splatted onto Yahshua's stomach. The tramp even blows bubbles with the toxic gunk. Bitch!
All in all, you won't be disappointed with any of the filthy, lightly to fully inked floozies in this gonzo, with director/performer Yahshua doing an excellent job o' slamming these hussies, as well as laudably capturing the coarse (yeah!) action in which these female tramps so sincerely love to regularly engage. What a bunch o' downright debased damsels. Love 'em!
Synopsis:
Romi Rain can't get enough of that BBC. She rides Princes' cock until he blows his load all over her inked body. Katrina Jade is a tattooed goddess that knows how to fuck. Prince puts a collar and leash on her and she submits to his every need. Emo sluts Leigh and Nikki start out with some hot girl/girl action. Once Prince shows up they share his huge black cock and he cums all over both of them! Harlow Harrison is an inked snow bunny that needs all of her holes filled. Prince fucks her ass and leaves her gaping for more!