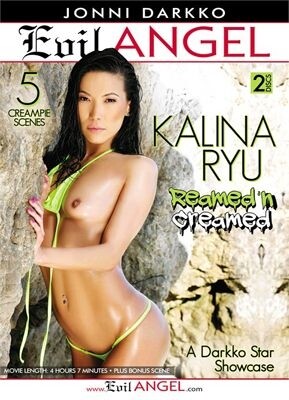 As you can see from the cast list, there are only two (count 'em, two) players in this double-disc Evil Angel sperm-former showcase: namely, director/phantom cock Jonni Darkko and 32-year-old Asian fox Kalina Ryu. And it's Ryu's extreme delight getting nasty with Darkko dick — in mouth and cunt (and a wee bit in her poo-poo pit!) — during the course of this, largely POV, 247-minute gonzo.
Disc 1 is very much like disc 2, except Kalina is far more spastic during the gonzo's first part, offering slick (far more slickness to cum!) glamour footage, getting oiled up, fucking and sucking Darkko repeatedly in the same (what looks like a) hotel room, while also shoving a black dildo up her mouth and twat, sometimes letting Jonni jam his joint into her sweet vadge while the behemoth-like apparatus is simultaneously in said honey hole, eating Darkko ass, feeding on the steaming sperm which he deposits (into her cunt) then serves up to her, either with his fingers or a big, black, plastic ladle. I particularly love this Korean-American bitch's meaty thighs (wonderfully displayed during missionary), luscious ass cheeks (ditto during doggie, spoon — which includes a little asshole-stickin' — and cowgirl), and downright filthy disposition when it comes to blowjobs, which are wet, slimy, filthy, deep, noisy, passionate and (so it would semen) endless! She's absolutely one of the Valley's top five (possibly top three!) deepthroaters, which is saying/spraying a lot!
Again, to me, disc two is largely the same as disc one, but what's terrific about part two is that Kalina is mugging far, far less at the camera and making fewer giggles/woo-hoos, while instead groaning more whorishly and grunting more sluttishly, thus making me believe that Darkko and she went to some ocean resort for the weekend (there's glam footage by the seaside) and just spent time and slime together, fucking and sucking to Kalina's heart's (and Jonni's farts) cunt-tent. Speculums are also included to add a bit o' kink to the already wild one-on-one antics, during which, for at least one scene, another fella other than Darkko is operating the camera, as it moves somewhat fluidly (amongst all of the other freaky fluids) while both o' Darkko's hands (and his blind one-eyed gland) are thoroughly visible (and quite busy, with a trollop like Kalina) in frame. Ryu, by the way, revels in playing with plenty o' sperm and saliva during part two, as well as delights in ball-sucking and (natch!) more sperm cunt-sumption. She's one superior strumpet, that Kalina!
Fans of top-rate, exotic-looking tramp X-traordinaire Kalina Ryu — and those viewers just starting to get on this whore's fast-moving train — will not be disappointed with such an energetic wench, who happily, ecstatically offers marvelously salacious deepthroats and creampies in this, her latest, showcase. And, hey, with more foamy titles like "Reamed 'n' Creamed" involving Ryu and this gonzo's same star-struck/star-spunkin' performer/director, we're soon gonna have a lil' baby Darkko in the wings. Yikes!
Synopsis:
Breathtaking Asian beauty Kalina Ryu embodies stylish glamor fused with boundless, animalistic lust. She's a perfect match for acclaimed pornographer Jonni Darkko, who's dedicated the epic, four-hour Kalina Ryu Reamed 'n Creamed to the starlet. He showcases his comely muse in a marathon of fierce fuck sessions saturated in semen and slop. Jonni's steady camera captures the leading lady in slow-motion beachfront tease footage, POV-style deep-throating and intense intercourse. Kalina glazes her slender body in oil, and when Jonni injects her snatch with lube that looks like jism, she transfers the slimy substance into her mouth with a funnel! These decadent encounters (five full scenes plus a bonus BJ) deliver graphic face fucking, anal fingering, vicious vaginal pounding, pussy probing with medical gadgets and gaping gash. An array of graphically soaking orgasms creams Kalina. Jonni pumps his prick inside her cunt during ejaculation, and she spoon-feeds herself a hot, fresh creampie! Kalina enjoys a massive cum facial and salty sperm swallowing too.