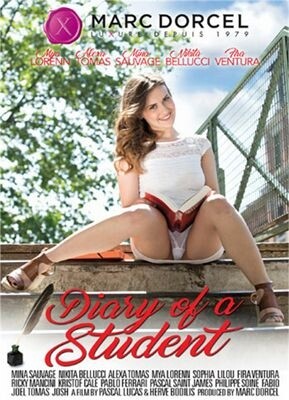 A string of loosely connected scenes about an acting student and her friends. Breathtakingly lovely Mina Sauvage is the student and Europorn superstar Nikita Bellucci her BFF. While Mina is out on a date Nikita joins an orgy at a producer's place. She and Spanish porn diva Alexa Tomas take on three stiff dicks, ending in a cumbath.
At a play rehearsal Mina's boyfriend Kristof Cale gets sexy with her backstage. He fucks her as she leans on a makeup table and screams with pleasure. Nikita sells a pair of pilfered red stilettos on the internet and goes to the guy's place to collect. She puts on the heels and Pascal St. James jerks off on her feet.
At an audition, the good-looking casting director invites Mina to a bar, writing the address on her forearm. They go into a private room and make out. He teases her nipples with ice cubes, which turns her on, and finger-fucks her. She unzips his trousers and gives him a loving blowjob.
Upstairs the bar closes and customers are invited to stay for group sex. We cut back and forth between the orgy — three gals, three guys — and Mina fucking her new squeeze. The cross-cutting is very effective — a great end to another erotic and beautifully mounted winner from Marc Dorcel.
Synopsis:
Mina, an 18 year old student, takes life as it comes, like any young woman her age. Every evening, after her economics class, she goes to her acting class at her local theatre with the secret dream of becoming a professional actress. During a private party on a barge, Nikita, her roommate and best friend, meets Roman, Mina's favorite Director. What if this encounter was the opportunity Mina had been waiting for? Even if Mina couldn't come to the party, Nikita certainly took advantage of it with Roman and a very open couple. After a night of debauchery, she meets with Mina at her acting class. During a break between two acts, Mina takes her boyfriend to the dressing room and offers him all her holes before going back to the rehearsal.