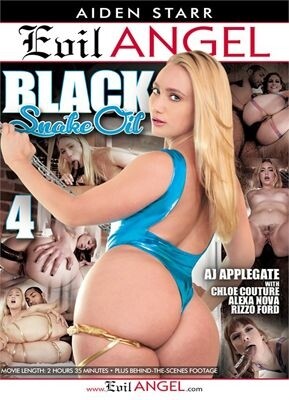 In the faux role of a studio photographer, black-snake-dangler Mickey Mod bangs four white broads, each in the anus, with the ladies, curiously enough, marvelously showing off their individual performing X-pertise and on-screen uniqueness during their separate anal-yses.
Big-bootied, 27-year-old Long Islander A.J. Applegate is not only one of the best blowjob artistes in the Valley — I'm talkin' deep, loud and fluid-drenched — but, as many of us pervs are well aware, also has one of the most voluptuous backsides and knows how to use it, particularly during cowgirl-vadge, her ass cakes hypnotically cascading in all directions, while she's (natch) a vision to behold bent over, all oiled up (as per the title, the bitches each get well-soaked, making 'em appear all the more fuckable), and takin' it deep up the shitter. And, like all of the girls except Chloe, I absolutely love the strap-like stockings she's wearing, making her delicious, big-fuckin' pooper appear all the more scrumptious.
Alexa Nova (great porn name!) is a 23-year-old redhead from Las Vegas who tries her damndest to deepthroat Mick's prick, while she's also got an as(s)toundingly meaty pooper, especially when greased up, bent over and taking it way up the patooty, while her cowgirl-anal is positively phenomenal, her butt cakes seeming to come to life while vigorously riding Mickey's prickey. Love this girl! — and that includes her bite-sized titties, too! Umphh!
The best thing about our next anal-minded slattern, Chloe Couture (at 19, the youngest of the lot, while hailing from Lancaster, PA), is the manner in which she gapes her butthole during doggie-anal (savor the vapor!), while she's similarly worth catching during missionary anal, showing off her succulent thighs and equally choice young twat. She's a keeper, alright!
And, while I have very few stats on Rizzo Ford (other than she's 5-foot), she's a good deepthroater, but especially shining, however, when Mod is slappin' her crapper during missionary, with her body, in fact, sideways, thus showing off the luscious, jelloey quality of her fine ass as it madly jiggles away. She's a (yes!) screamer, too, so you've been warned.
"Black Snake Oil 4" is absolutely filled to the brim with big-bottomed babes, looking all the more fetching when their healthy butts are drenched in oil, as their shitholes are blasted out a la Mod. Oh, and — with the exception of Chloe, who's still kinda finding her XXX way, whilst offering up superb gapers — the included ATMs are, also, rockin'!
Synopsis:
Filmmaker and kinky provocateur Aiden Starr presents Black Snake Oil 4, in which four natural-bodied cuties exercise their interracial anal lust with stud Mickey Mod's thick, ebony erection. The director brings out her performers' dirtiest behavior with smart-ass encouragement from behind the camera, and slatherings of massage oil slicken the friction. Comely blonde AJ Applegate is playful and passionate, twerking her super-sized white cheeks as she rides Mickey's thick, dark rod. She masturbates as he stuffs her plump rump to ecstasy, and she swallows cum. Longhaired redhead Alexa Nova's fluids froth as she's fucked, and Mickey spanks her pale cheeks pink as she rides the meat. Strawberry blonde Chloe Couture practices her deep-throating, spit flowing. She bellows in orgasm as she's butt-fucked, and when Micky pulls out, her anus gapes. Elaborately tattooed Rizzo Ford's electric smile and dramatic makeup end up splashed in semen, but first Mickey chokes and manhandles her to delirious, screaming bliss. She sucks dick ass-to-mouth.