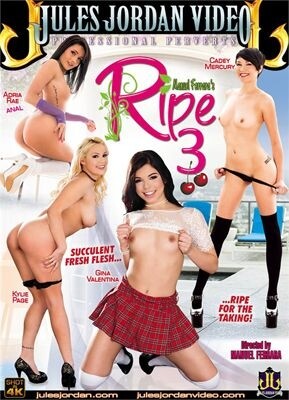 What I like about this hybrid-gonzo is that each of the four cute-as-hell girls looks totally different from one another. Adria Rae is a brown-haired babe who likes it up the ass; Gina Valentina's a Latina spinner; Kylie Page is a blonde bombshell; and Cadey Mercury's a striking punkette. The girls are also all excellent suckette/fuckettes when it comes to dealing with Manny Ferrara's wrinkled, uncut, semenly ubiquitous French meat puppet.
Adria Rae is the only chickadee here to take it up the ass, and it's positively worth catching. Each young lady first has a brief introduction, wherein we find out something cunt-cerning her fantasies (Gina likes to get dressed up in school girl clothing; Kylie likes baths; Cadey digs her rich dad's manservant), with all of the bitches loving older cock, as in the veteran vine attached to Ferrara; with Michigander Adria having a thing about her 'stretching' X-ercises, her anus itself being properly worked out by a little dildo, till she takes on some Manny missile, with volcanic results. All of her positions with the French fella are arousing — with my own fave being doggie — and Rae isn't one to shy away from ATMs, either. Yeah!
Gina Valentina (20, from Florida, of delicious American-Brazilian roots, and with a great rhyming nom de porn) lets her own "daddy", as in Ferrara, slam her silly, with Gina being more passionate of a groaner than Adria, and even squirting at one point. What a delightfully wiry body on this fine-ass Latina, with Ferrara totally putting the tasty waif through the porn paces. Love it!
Kylie Page (20, from Oklahoma) reminds me of a more luscious version of Tuesday Weld, circa 1960, and her juiciness is well displayed when Ferrara gets her all sweaty after Page has enjoyed a luxurious bubble bath. Talk about a superb pair of all-natural tits and one succulent set o' butt cheeks (on Page, not Ferrara). Wow! I also love the way she tries her damndest to jam Manuel-boy's boner all the way down her gullet. Not only is Page pretty, but she's a horny little slut. And don't miss her tits circulating during spoon position nor her butt cheeks gyrating during doggie. All-around fantastic wench!
Lastly, the hot-/punk-looking Cadey Mercury (20, from Illinois, and with another unique XXX moniker) is a wondrous deepthroater, while she's by far the most animated of all four ladies, really digging her probing in each and every position. Just watching her ass while she's naked, on her hands and knees, and sucking Ferrara's stick is a major turn-on, but wait until you see her awesome, rippling booty cheeks in action during doggie and cowgirl. Bitch!
"Ripe 3" is a Jules Jordan Video title absolutely worth getting, if not for the fun deepthroating and lively porking antics, then merely to witness these pretty young lasses eat Manuel's farts.
Synopsis:
Adria Rae starts out stretching in yoga poses and ends up with Manuel's cock stretching her asshole!
Gina Valentina let's everyone know she's a bigger slut than we thought she was and shows us by fucking and sucking Manuel in every position!
Kylie Page is taking a bath, when someone knocks on the door, Manuel plays with her big natural tits and then fucks her until she's covered in cum!
Cadey Mercury has been trying to get Manuel's attention for a while. So, she strips naked and makes him notice her and then she rides him until he shoots his load all over her face!