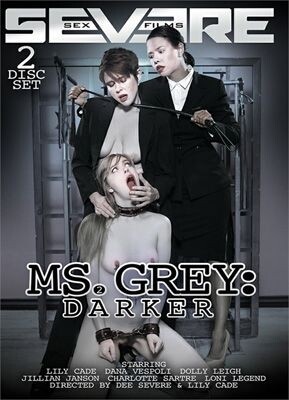 An excellent sequel to Severe's "50 Shades of Grey"-inspired "Ms. Grey." Co-director Lily Cade plays Kristen Grey, a suave, sexy, controlling businesswoman, who falls in love with dewy young Annabelle (Dolly Leigh). She picks her up at a gallery show (the striking erotic photos are credited to Blackula) and lays down the law. "I won't fuck unless you beg for it."
Ms. Grey takes total charge, tying up Annabelle and licking vanilla ice cream from her sweet young breasts. After some deep pussy eating, out comes the strap-on for a strenuous workout. A deranged ex-lover, played by cute but creepy Charlotte Sartre, comes back to stalk Ms. Grey. But Kristen doles out harsh punishments. Charlotte winds up getting strap-on-fucked with her head in a toilet.
Annabelle gets a job with Mrs. Robinson (Dana Vespoli), an executive who was involved with Ms. Grey years before. We see just how much involved in a flashback as sexily dressed Mrs. R picks up waif-like Ms. Grey, and they take turns domming and fucking each other.
The final scene finds Ms. Grey and Rachel (Jillian Janson), for some reason, lost in the mountains. They have searing sex among the leg-bruising rocks and brambles, with powerhouse finger-fucking from Kristen. Very intense scene. Fans of Ms. Grey will surely want to see more of her.
Synopsis:
Ms. Grey's past comes back to haunt her as she tries to re-establish her relationship with her true love Annabelle. But has Grey really changed, or is she still the charming sociopath she's always been? Find out in this follow-up to the multi-award nominated kinky hit "Ms. Grey".