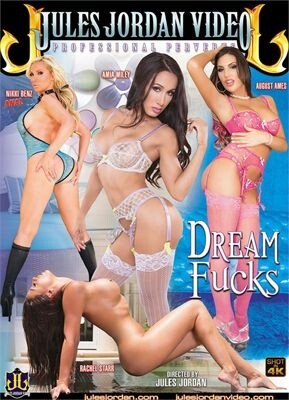 While one man's dream may be another's nightmare, I think it's fairly safe to say that the four women featured in this Jules Jordan gonzo aren't ones whom you'd soon kick outta bed — especially after all of the trouble you'd probably have in getting them between the sheets in the first place. Jules, of course, has no problem, leaving each of these four superior sluts well-fucked — and, but of course, well-paid. It's also a nice mixture of whores, with two of 'em in their twenties, while the other pair are veteran tramps, who quite visibly know how to work/grind/shake their moneymakers.
Probably the true, hands-down (dicks-up) dream fuck in the entire batch here is 22-year-old Canadian hottie August Ames, whom Jules, very smartly, keeps for himself. While she still may have employed a bit too much wrist action during the cocksucking for my liking, in lieu of "look-Ma-no-hands" action, August still provides some amazing choking sounds, while she's a vision to behold in the doggie position (definitely flaunting a pair of the best ass cheeks in the biz!), and it's similarly hypnotic watching her get plugged during spoon, with her big, beautiful boobies dizzyingly swirling about. Don't miss this one!
33-year-old MILF Rachel Starr is next, and she has a killer pair of ass cheeks, too, showing off her delectable derriere in the cowgirl position — cooing to Manuel Ferrara, "Let me do all of the work," as she rides his dick — with her near-perfect ass muffins jiggling ever so rhythmically; while she also provides, I think, the best blowjob in the movie, giving it to Manny oh so luxuriously and slow, and even licking his stinky Parisian poop pit in the nasty process. Though that amazing BJ is way too short in this perv's estimation.
We're back to the young 'uns in episode three, as 26-year-old, tight-bodied and eccentrically named Amia Miley gets it on with James Deen. And speaking of hard bodies, Amia's is almost too tightly toned for my taste. But she does present the movie's most filthy suck-off, really deepthroating that Deen dick and vulgarly (yes!) gagging on said prick. Excellent (blow)job, Amia!
And, lastly, while I'm far from a fan of 35-year-old Canadian Nikki Benz, I applaud her for daring to doo-doo anal in this title, her big ass muffins really bearing down on Jules' joint; while it's a true turn-on seeing Jordan get her delightfully augmented/sloppy boobs all oiled up and then fuck those juicy titties to cum-pletion. There's also a great shot from below of Nikki, as Jules is fucking her doggie, with those same floppy fun bags revolving all over the place. Horny stuff!
Again, while you may not have all — or any, for that splatter — of these four women on your Bucket (or Fuck-It) List, you'll definitely not mind whacking to 'em care of this solid gonzo entry from the fine degenerates at Jules Jordan Video.
Synopsis:
The most beautiful women getting fucked hard! Dream Fucks features the stunning bodies of ultimate fuckability! August Ames gets her beautiful, natural tits worshipped. Nikki Benz is an anal fiend! Stunning Amia Miley takes a deep, hard pounding and hard-bodied Rachel Starr flexes her pussy muscles around a big ol' cock.