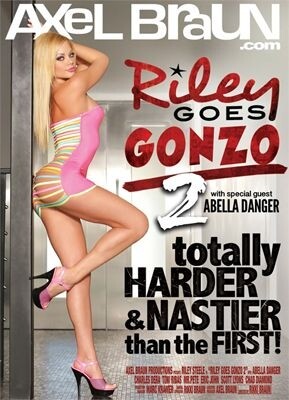 If you're a fan of Riley Steele (29, from San Diego), then you'll likely enjoy this Rikki Braun-directed five-scene gonzo entry.
And Riley's porn showcase, oddly, starts off with a buncha glamour footage of Abella Danger (a scratch of the head, the big one), before Riley herself shows up and the two twats start licking each other's anus, which is relatively hot; with things getting steamy when Charles Dera (looking very much like a Craig T. Nelson — '70s porn-star moustache, et al — circa 1983) shows up in the next scene, with the best position being missionary, as Riley's store-bought tits look pretty good in this stance, while it's a turn-on seeing her meaty thighs spread during this bangin'.
After a somewhat throwaway masturbation interlude in a bathtub, Riley gets it on with two veteran dicks — Mick Blue and Mr. Pete — with one of the decent moments here being when they pass the bitch back and forth and slam her doggie style. Steele really does have one tight little bod.
Yet the "showstopper" is her three-man blowbang, which she commits (or is that cum-mits?) with a trio of mopes who look like they really need the work, while Riley tries to prove just what an ultra-slut she is for letting these carny types jam their raging hard-ons deep down her gullet, over and over again, until they blast their loads, making her previously cute face look like a giant ball of soggy flan, syrupy sauce and all.
Even for 29, Riley is still an admirably well-preserved XXX tramp, who's worth catching here, especially for her messy, multiple-hose, BJ finale.
Synopsis:
The queen is BACK! Porn superstar Riley Steele gets down and dirty in this hot, stylish showcase directed by Rikki Braun. Unreal, unhinged, and uninhibited, this time Riley is going totally Gonzo!