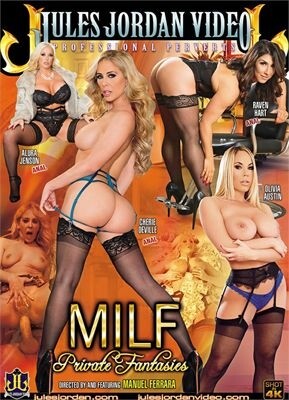 These scenes aren't really "fantasies" per se; they're more like confessions. First, the MILFs talk to the camera about how they like their sex, then they, actually, do the nasty: Cherie DeVille is a housewife who loves cleaning her home so as to later be rewarded by getting fucked silly by her hubby; Olivia Austin decides to get her boyfriend to forget about his ex by screwing his brains out; Raven Hart is a doctor who drugs her male patients, then lets them hump her, with the patients, afterwards, cumming out of their dream-like state and being none the wiser; and Alura Jenson is a rich bitch whose billionaire husband ignores the built-like-a-brick-shithouse mama, forcing the latter to focus on getting cock from the hired help/hoses. Each scene rocks, with director/performer Manuel Ferrara getting all of the pussy for himself, as(s) well as landing three female anuses during the course of these very coarse (yes!) events.
You can never go wrong with scorchingly sexy Cherie DeVille, who, at 38, looks and acts as young as ever, with the true slut delivering some tasty goods here. After a little bit of pussy pounding and an amazing deepthroat a la DeVille, Manuel shifts to the shitter, with Cherie rising (as always!) to the filthy occasion, giving gapes during doggie and saying marvelously wonderful lines in-between reverse-cowgirl anal like, "Want me to clean off my ass juice for you?" Wow! Yep, she's never one to shy away from a good old-fashioned ATM. DeVille also adores eating Manny's farts, as do all of the ladies featured in this title (musta been in their contracts!).
Olivia Austin, 30, is a big-assed, busty hussy who particularly shines during cowgirl and doggie, with her hefty ass hypnotically jiggling all over the fucking place. And even though she's the only MILF who doesn't do anal, Olivia still gives Manny a run for his money. And, yes, she does, indeed, suck a mean prick.
Older, busty, ample-bottomed brunette Raven Hart looks great with glasses and in a doctor's outfit, and even better when she sheds off her office duds, focusing on getting her mouth, cunt and asshole (in that order!) fiercely probed by Manny meat. She's another one who offers terrific ATMs, and I loved the way she licks the sperm offa her specs after Manny boy blows his load all over 'em.
Lastly, 39-year-old platinum blonde Alura Jenson is, like Raven, another thick hottie who obviously likes getting her tonsils, twat and turd-bin deeply drilled, with the meaty whore really excelling during cowgirl vadge and anal; those bad-ass butt muffins are just jigglin' every which way for the camera!
"MILF Private Fantasies" might have been more appropriately titled "MILF Private Confessions" (or even "Cunt-fessions!"), but forget about the fucking title! —I nstead, just get into the older-bolder sucking and fucking these well-aged sluts delightedly offer up for our pleasure.
Synopsis:
Everyone has a naughty fantasy - these red hot MILFs are no exception. Dive into the darkest desires of the horny, filthy minds of Cherie Deville, Alura Jenson, Olivia Austin, and Raven Hart. Cherie's tight ass craves some big meat. Raven Hart is Doctor LOVE and she prescribes herself an anal drilling. Olivia Austin works hard for her body and just needs her beautiful, giant tits worshipped. Sugar Mama Alura Jenson is a blonde babe willing to pay top dollar for a deep butt-fucking.