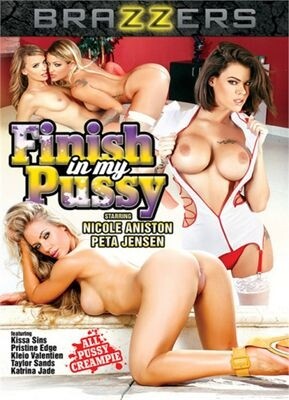 Five vignettes from Brazzers, all ending with creampies, with each girl putting in strong, horny performances.
Nicole Aniston (27, from San Diego, and looking a lot like Chasey Lain… remember her from the '90s?) does seem to be the big draw here, as she headlines the movie. Her scene starts things off, and her curvy figure figures quite prominently on the boxcover; but the other four featured foxes aren't too shabby, either. After an on-screen interview (that goes on ad nauseam, although I do like her reference to dicks as "wieners"), Nicole poses and strips for the camera, then takes on Keiran Lee, the most impressive segment being her spirited cowgirl humping, her big butt cheeks quivering every which way, and for a good long time, too! The creampie itself, however, is not as impressive as a few o' the other vadge fill-'er-up-ers that ensue.
Indeed, lotsa good sluts follow in Nicole's hot footsteps. For one, Peta Jensen (26, from Florida) plays a ridiculously sexy nurse who gives Xander Corvus the X-amination of his life, with cowgirl again being a highlight (what a nice big pair o' butt cheeks on Peta, beautifully accented by her garters), while her deepthroating is superb, with an equally scorching pair (!) of doggie sessions; and large augmented boobies look terrif during reverse cowgirl, particularly with the camera at an effectively low angle; while fans are treated to an especially sloppy (a good thing!) creampie.
In one of the more clever stories, a sperm bank offers "peep show nurses" who arouse their donors to the point of filling the proverbial specimen cup, with Kissa Sins (29, from Pasadena) and Pristine Edge (29, from Florida) portraying said exhibitionistic medical ass-istants and Johnny Sins the lucky semen provider. After a great girl/girl "show" between Kissa and Pristine (with some equally impressive licking, grinding and, for that matter, editing), Johnny's joint joins the two whores, who give a boner-bursting double BJ, followed by many positions focusing on Kissa's meaty pooper, with Pristine's spinner body being a great contrast to Ms. Sins' voluptuousness (really amazing during cowgirl and doggie), while it's great seeing John-boy stack the two ladies, doing Pris mish and Kissa doggie. After Johnny creams in Kissa's cunt, it drips out into the specimen cup, with the two hungry tramps sharing the boom-boom juice.
Tattooed vamp Kleio Valentien (31, from Texas) does a fine job of taking on Danny D., with a fab final foam-filling of her twat, though, fuck-wise, I found this episode way too short, with limited positions; while incredibly cute and sexy brunette Taylor Sands (24, from the Netherlands) pumps a lucky British plumber, trying her best to deepthroat the dude's huge tool, before letting him probe her hairy (but well-trimmed), very pink pussy, with some fine standing doggie (and spanking!), as well as a nasty sperm injection, the cum spurting in and then (some of it) out o' Taylor's meaty twat during spoon.
Except for the mentioned relatively eclipsed banging of Kleio, "Finish in My Pussy" is a creampie flick worth checking out. Actually, the shortage of sex during Valentien's scene is made up via a bonus episode with the always-watchable Katrina Jade (and both her fine fanny and awesome deepthroat prowess!).
Synopsis:
Five vignettes from Brazzers, all ending with creampies, with each girl putting in strong, horny performances.