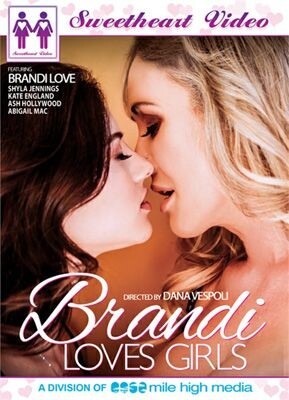 Director Dana Vespoli picks up super-MILF Brandi Love at the airport from her home in North Carolina. Contracted to Sweetheart/Mile High Media, she has made a list of preferred partners for this, her first showcase. First is Abigail Mac, and an intimacy is established as Abigail tells Brandi about herself. Brandi licks her thighs and pussy, very erotically, and Abigail makes a meal of Brandi's snatch.
Brandi says she's extra excited about working with lesbian superstar Shyla Jennings. They get along like giggly girls. Brandi does some expert finger fucking on the younger woman, and they finish with an arousing 69 and a sweet kiss.
Dana calls Brandi "commanding but sensual," and that comes out in her scene with Kate England. They do a little improv about two competing realtors trying to sell a house. Brandi gets very demanding, groping Kate's pussy and tearing off her dress. When Brandi goes to work on Kate the blonde starts moaning right away.
Ash Hollywood is the only girl Brandi's worked with before and she can't wait to get into her again. She joins sweet-looking Ash in the shower. Brandi's tongue digs deep into Ash's pussy, and Ash's own tongue work makes Brandi quiver all over.
Synopsis:
Sweetheart Video celebrates their contract star, gorgeous MILF superstar Brandi Love in this mesmerizing showcase. Brandi arrives in Los Angeles on camera, and the fun doesnt stop as she hurtles from one beautiful girl to the next, until she is dropped off at the airport at the end of the film. Her co-stars were selected via fan votes, from a list Brandi carefully created, and the result is one explosive scene after another: athletic stunner Abigail Mac, cute winsome Shyla Jennings, blond exotic Kate England and sexy sporty Ash Hollywood.