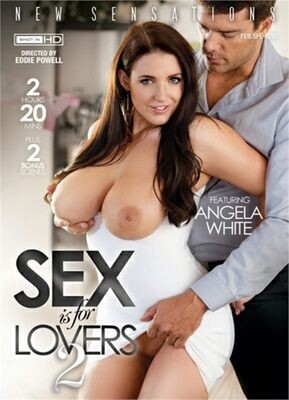 Except for the case of Karlo Karrera, who always seems like a pretty cool cat, the director here seems to have told the other three sperm-forming studs, "Guys, just mellow out, okay?" And it worked! For example, I've never seen Roman Nomar so, er, amiable before, during and after slamming a prime piece of ass. Mick Blue, too. The somewhat less pliant Deen still tries to be in cunt-rol of the female co-star in his segment with Brett Rossi, but he's, nonetheless, more subdued than usual. And getting back to Karlo, he gets the piece of ass de resistance in the shape of shapely Nikki Capone, who can't help but come across as a total slut (yes!) in this New Sensations porn portmanteau for couples and pervs alike.
James Deen starts the balling rolling by blindfolding very pretty 27-year-old L.A. babe Brett Rossi during the majority of this sexually low-key movie's kinkiest scene, with heated results, indeed, particularly when Rossi finally (!) takes off the blindfold and really works Deen's bone to the bone. Brett, like all of the ladies in SFL2, is a fine cocksucker, while she's also grand — can't be anything but(t) with that juicy butt o' hers — in the doggie position.
Ramon Nomar follows, being as cheery and jovial as you've ever see this Euro-born vadge obliterator, as he celebrates the birthday of his on-screen wife, Aussie Angela White, by giving her some presents (pretty minimal, lemme tell ya), with the most memorable being (for Angela, us, and, yes, Ramon) a deep oil massage that develops into an equally deep mouth and pussy probing. Angela is incredible, what with that all-natural 42GG-28-38 figure, especially in the missionary position, as her luscious chest orbs swirl like mad, and the doggie stance, with those delicious hangin' hooters similarly gyrating in a highly arousing manner.
Next, 30-year-old Florida-born tart Nikki Capone and her own on-screen hubby, the regularly good-natured Karlo Karrera, decide to stay home and get intimate (sounds like a cheap date for Karlo, in more ways than one), with the two getting down and dirty amidst some effectively moody lighting. Capone is just such a whore, she almost literally oozes S-L-U-T. Her face is sexy, her body ultra-curvaceous, but it's her focused attitude that blows me away (as well as her laudable blowjob). This woman gives you the impression that she only has loyalty to the man banging her at the moment. That's it. One has to enjoy this mercurial tramp there and then. But we (ha! ha!) get to rewind/rewatch this sizzling bitch's whorishness at our leisure. I definitely hope to see more of Nikki (she's only done under 10 movies as of this writing, according to IAFD)!
And the movie is well-rounded off (no shit!) with delectable 24-year-old Latina, also from the Sunshine State, Rachel Rose, who gets a soothing massage from on-screen husband (and, refreshingly, less in-your-face than usual), Austrian cockmeister Mick Blue, with Rose giving perhaps the movie's most passionate female performance, really loving every minute of her tonsil and twat skewering from McDick (short for Mick's dick). Rose loves hose (absolutely a good thing for a porn starlet!), and I love watching this sweet but salacious, wiry but meaty-in-all-o'- the-right-places fox sincerely dig her sweat-drenched drilling.
"Sex is for Lovers 2" is a strong entry from New Sensations, made all the more powerful through a righteous roster of attractive, hot-to-trot hussies. I just hope that in the future director Powell will forego putting any blindfolds on photogenic women (like Brett Rossi) for too extended a period of time. Let's fully reveal these fine bitches, not cover 'em up!
Synopsis:
For these couples, sex is much more than an erotic physical attraction, but a demonstration of the passion and romance they have within. Love and intimacy are commonplace, but true passion can only be found where the heart follows.
close
E-mail this to a friend
Sex is for Lovers 2
Email sent. If you wish to send to another person, click here.