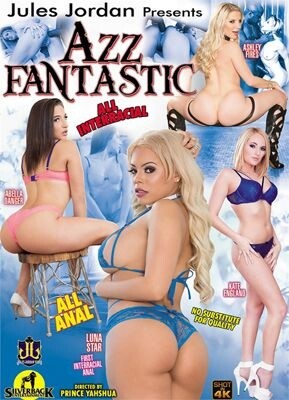 From Jules Jordan Video, this nasty gonzo has 47-year-old Prince Yahshua having animated (as in fuckin'-A pounding!) interracial/anal sex with three white chicks (Abella, Kate, Ashley) and a Latina (Luna) with absolutely nuclear results.
21-year-old Floridian Abella Danger is up first, definitely warming things up in the right (as in filthy!) way. After doin' the glam thing for Yahshua's camera, she does the slut thing for Yahshua's cock. While Abella starts with a bit too much hand on her blowjob for my liking, Yahshua soon sets her straight, by jammin' that big black nightstick straight down her gullet. And after some vadge sex (which is good, in that a perfectly fine hole — as in Danger's "cunt" — isn't neglected), Abella offers up her shitter, eventually giving us some doggie-anal that, with Yahshua at the cunt-rols, is first slow and deep, leading to hard and fast. I love her gapes, too, with a little anal winking thrown in. Charming! Abella's, also, a fine ATMer!
Big-boobed/lush-assed 27-year-old Cuban Luna Star is up next, providing a mesmerizing pair of butt cheeks, whether just doing (slo-mo) glam stuff or getting heatedly doggie-slammed up her snapper 'n' crapper. Yahshua knows what he's doing, too, letting Luna drive her anus backwards into his raging hard-on, over and over again, creating a great jelloey rhythm with her butt cheeks, which are impossible not to blow yer load over. But Yawsh blasts his geyser on her pretty face, as he does all but three ladies, except for the one cummin' up…
That's right — 23-year-old Kate England (who's not English but American-Russian and, very sexily, looks it!) is, like Luna, juicy in her own right, even (to me) more passionate, and ultimately gets her twat cooze-creamed a la Prince. Kate has this sleepily sluttish way about her, totally throwing herself into her Prince plugging. I love her slightly biggish tits hanging down when he doggies her, and she, also, delivers some highly arousing bunghole gapes. A very compliant whore, foxy in all positions, Kate must not be missed whilst panting, "Harder! Harder! Fuck my ass! Keep fuckin' my ass!" as Yahshua rectum-reams her doggie style. And it's great how Yawsh sperm-injects her during cowgirl, with Kate licking up the excess jizz on his stomach. Love ya, Katie baby!
Lastly, 35-year-old cunt-summate whore Ashley Fires (from none other than the Valley; more specifically, Northridge, CA) provides a perfect ending (and end!) for this searing gonzo. Playing a "cat" (or something), Ash is first seen in the shower, afterwards lapping up some milk from a bowl, and then letting Yawsh feed her a little ebony cock… via her mouth, pussy and anus (in that order!). After a nice blowjob, Fires partakes of some hard doggie, followed by missionary-anal, a little asphyxiation (care of the ever-romantic Prince), some super ATMs (as all of the other three ladies similarly deliver), hammering doggie-anal ("Take it!" she moans, "It's your fuckin' ass!"), some gapes ("You make me a big gaping slut," she purrs), more doggie-anal, before el Prince-O splats upon her face, and then, after some more doggie-pooper penetration, he, semenly, spouts once again, but this time inside her warm fudge-hole. And, with an Ash craphole gaper as the penultimate image from Yahshua's camera, it's a terrify cunt-clusion, indeed!
"Azz Fantastic" is, as the strangely spelt title suggests, filled with two-and-a-half marvelous sleazy hours of fantastic "azz"-fucking, care of four fant-ass-tic anal slut-er-oo's. And, yes, the Prince is wearing his signature Max Hardcore-esque tan boots throughout (so, hey, you have been warned).
Synopsis:
Silver Back World is proud to present a brand new collection of the hottest booties getting stuffed to capacity with BBC! Featuring big titted Latina, LUNA STAR, taking her VERY FIRST INTERRACIAL ANAL. Prince Yahshua rounds up some fantastic ass for the first of this IR ANAL series, including flexible Abella Danger, blonde girl next door Kate England, and the always insatiable Ashley Fires. Every girl gets all of her holes pounded to submission! Watch these eager ladies get mouth fucked, pussy stuffed, and anally fulfilled with Big Black Cock.