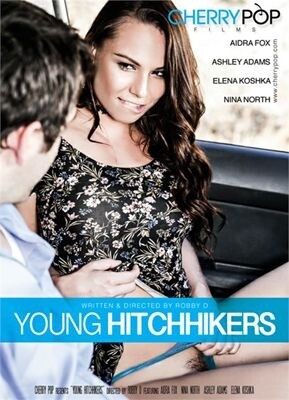 Four on-the-road tales/tails, with high points going to each and every young lady featured, both classically pretty (Aidra Fox, Elena Koshka) and blessed with off-kilter good looks (Ashley Adams, Nina North).
Ashley Adams plays a "sister" (on her way to the convent… how like life, eh?), who gets "picked up" by Brad Hart, looking/acting like he just got outta prison, but the results are, nonetheless, quite fiery. Ashley's delectable little body looks awesome when Hart is bangin' her good and proper. Ash is also a fine cock inhaler!
Next, Karlo Karrera picks up a hitchhiker, Russian-American sweetie Elena Koshka, who's freezing on the road, but much warmer when Karlo takes her home, puts her by the blazing fireplace, gives her some hot chocolate… and then a raging hard-on in her mouth and cunt. Elena is absolutely one of the tastiest porn properties out there today, so see all of her while you can. Now, while Elena might not do anal here (as is, unfortunately, the case with the other three wenches), it's still a pleasure watching the fine bitch quiver from Karrera's serious penile pounding.
In a bit of a switch, the next hitchhiker is a male, Donnie Rock, who's run outta gas, but not cum, as you'll soon discover when the ever-gorgeous Aidra Fox gives him a lift (in more ways than one!) — and vice versa! It's especially arousing watching the sassy Fox getting heavily hammered during standing-doggie against the car. She's another heavy-duty cock-suckette, loving every inch of a prick wildly reaming her velvety gullet and nearly forcing her to (happily!) blow the chunks.
And, lastly, brunette Nina Fox is stranded in her out-of-gas car (in a cunt-tinuation of the previous tale), getting some "help" from Seth Gamble, who takes Fox home and slams the hell outta her, with Nina, like the other three lasses, getting good 'n' sweaty, while truly delivering a dirty, animated blowjob.
My hat is absolutely off to former Digital Playground director Robbie D. for serving up a quartet of dick-hardening hitchhiker anecdotes; thanks especially to his good taste in young female talent.
Synopsis:
Horny teens picked up for a good time! Plucked straight from the streets, these little sluts eagerly prove their worth in front of the cameras!