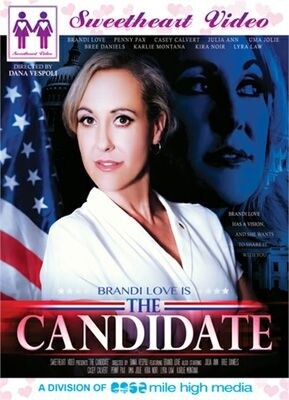 Presidential politics collides with lesbian love in this delightfully far-fetched but oh-so-entertaining socio-sexual psychodrama.
Brandi Love plays a West Coast "progressive" running for President, opposed by sneaky conservative Southern senator Alec Knight. He's racist and homophobic and unaware that his precious daughter (Penny Pax) is gay and is getting it on with a girlfriend (Casey Calvert).
Candidate Brandi is also a lesbian, but very closeted, with a paraplegic lover played by Julia Ann. The blonde super-MILFs have a very sensuous sex scene — they actually seem to like each other. Julia makes Brandi promise to come out about the relationship after the election.
Then a tape supposedly made during Brandi's college days surfaces on the internet. It's Brandi having a hot threesome with Bree Daniels and Uma Jolie (and very well shot for an amateur tape). She tries to ignore it or at least deflect its impact, while her opponent (a non-sex role) tries to capitalize on it. He meanwhile is carrying on with a young hooker, Karlie Montana, who does a sexy striptease for him.
After an unexpected plot twist, Brandi wins the election, reconciles with her opponent and comes out as "your first openly gay president." Director Dana Vespoli makes it all seem quite convincing, and Brandi is excellent in the title role.
Synopsis:
Democratic Senator Jen Hanlon is poised to become the first woman president of the United States, until a scandal erupts that could potentially destroy her entire political career. Her opponent, Republican senator Trip Mathis will stop at nothing to see Jen fall from grace, unaware that his tactics will bring forth a horrible tragedy.