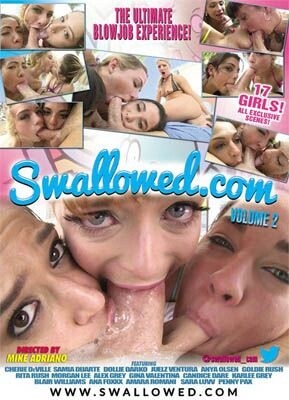 If you like blowjob movies, then "Swallowed 2" is the mother of 'em all, with 17 sexy bitches — in groups of five, four, three and two — sucking director/performer Mike Adriano's cock, balls, even his (yikes!) anus. These intense suck-offs, from some of the nastiest sluts in the San Fernando Valley, will not fail to promptly blow yer mind and nut, though not necessarily in that order… or maybe even simultaneously!
Let me first lay out the BJ drill here, because there's just so much shit going on in each suck-off scenario. First, the ladies get lined up, show off their asses, pussies, tits and then (boom!) they descend upon Adriano's member. You really can't get more than three girls attending to a cock at one time — not enough (big) head room! — and it's a joy to watch the frothy females in the over-two-mouth groupings greedily attacking prick. Sometimes a hussy is on either side of his shaft while the third is either sucking his balls or shitter. Other times you get girls rotating the rod, changing positions in terms of deepthroating and turdpit/testicle sucking. Other times you have an anal train, the girls line up to take a shot with tongue and mouth at our man Mikey's crapper. All in all, there's lotsa saliva, choking and many, many rude sounds. Incredible.
Now, looking at each of the five (yes, five!) included multiple-mouth suck-off sessions… this fierce gonzo really hits the ground running with a five-girl BJ, with (as you would expect) slightly older vixens Dollie Darko and Cherie DeVille being the biggest major sluts of the five. "Sloppy throat cum," Dollie tells the camera as the girls share each other's spit during a brief rog/rectum respite. "Fuck!" we hear Adriano frequently yelp, as he barely holds his load back. And, like the good whores that they are, all five ladies share Mike's murk when he pops.
Scene two has three ladies, with Asianette Morgan Lee calling her other two hard-working cum-patriots "fucking sluts" and pretty much taking the cake. Or cock. Or both. Watch how she just keeps going and going and going, like the Ever Ready Bunny, as she sucks Mikey meat. And at one point, Anya Olsen and Goldie Rush are licking his ass simultane-ass-ly. Wow!
More good stuff(ing) ensues… next, blonde Alex Grey and brunette Gina Valentina share Mikey missile, with Adriano actually having some time to kiss Gina as Alex goes back and forth sucking his ass and dick. The penultimate scene is a foursome with black mama Ana Foxx being an excellent deepthroater, as is big-boobed brunette Karlee Grey, whose amazing tits Adriano gets to suck at one point (the boner-bursting things just hangin' over his face), while the other three trollops wolf down wiener. Ana and Karlee are even jammin' a big white dildo down their mouths when they don't have the real thing in their cake holes. Damn.
Lastly, three young ladies — brown-haired Sara Luvv, brunette Amara Romani (sounds like a perfume) and redhead Penny Pax — share Mike's wrinkled sax, providing a superb cunt-clusion. "I like big cocks down my little fucking throat, till my nose starts running," says dirty Amara. And she puts her money (and Adriano's prick) where her mouth is! They're three excellent cocksockets. And I adore Penny's swinging big titties. Mikey himself, smartly, takes time off to suck those amazing chest puppies. Watch, by the way, how all three tramps also blow bubbles of spit with one another. Gotta point out, too, that Sara really works hard on that cock. Hell, they all do! And it really appears as if Amara's eyes are gonna pop when she's deepthroating. After Adriano finally spurts in Penny's mouth, she democratically shares it with the other ravenous fucked-in-the-face floozies.
"Swallowed 2"… in a word? Awesome! One of the best blowjob series ever!
Synopsis:
Smut maestro Mike Adriano hosts groups of two-to-five salivating sluts in the filthy, slobber-soaked reverse blow bangs of Swallowed.com Vol. 2. The dirty director/well-hung performer pounds a total of 17 throats, with each scene culminating in a creamy, cum-swapping climax. Cherie DeVille, Samia Duarte, Dollie Darko, Juelz Ventura and Rita Rush worship Mike's mighty meat in an epic of oral decadence, rimming ass, lapping balls and deep-throating dick. Anya Olsen, Morgan Lee and Goldie Rush give Mike a messy triple suck job. They tease with winking buttholes and share sloppy, three-way semen smooches after Mike showers them in spunk. Sweethearts Alex Grey and Gina Valentina have a penchant for slimy, perverted pole sucking. They gush gag spit in a graphic, POV-style double BJ. Knob-slobbing nymphs Candice Dare, Karlee Grey, Blair Williams and Ana Foxxx go down for super-charged, four-way fellatio. Acrobatic Blair does a handstand as Mike pummels her face! Chipper cocksuckers Amara Romani, Penny Pax and Sara Luvv enjoy a mouth-fucking melee! Each swallows a portion of Mike's jism.