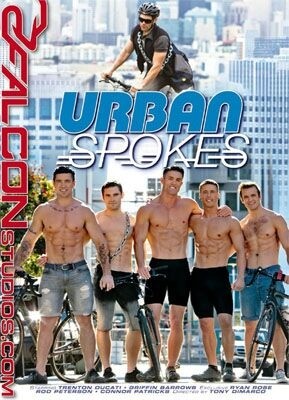 Falcon Studios extends its legendary franchise as three eager, handsome newcomers compete to join a fabled San Francisco sex club popular among well-hung bicyclists.
Excellent use of drone footage captures the San Francisco cityscape and coastline and sets up the first scene, in particular, featuring dreamboat Ryan Rose and handsome, fit newbie Rod Peterson. The latter can hardly wait to start slurping on Rose, a charmer who grins with smooth confidence as he leads Peterson through a vigorous fuck session.
In the following vignette, Griffin Barrows is boyishly cute with an easygoing charm and he's equally enthusiastic about a hookup with Brent Corrigan. He gasps with pleasure and it's all Corrigan can do to keep Barrows tamed until he's ready to jack out a load onto Griffin's eager tongue and handsome features.
JJ Knight and Connor Patricks nearly collide on the crowded city streets. But, once again, Patricks, the newcomer, forgets all about his troubles when Knight begins his seduction. The latter stud is a smooth, sensual lover. He takes his good old time and Patricks demonstrates admirable skill in managing Knight's famously thick, plus-sized python.
It wouldn't be a "Spokes" fuck flick without a frenzied orgy. Rose returns with musclebod Trenton Ducati as they put Barrows, Peterson and Patricks through a sexual roundelay. The sexual enthusiasm that bubbled up throughout the prior sexcapades amps the heat level here, too. Barrows really earns his stripes as a power-bottom, eagerly egging on the other men and groaning with obvious, open enjoyment as they douse him with one load after another.
Porn fans should definitely check out the original 1983 "Spokes" costarring Lee Ryder and Leo Ford, "Spokes II" (1988) with Jim Bentley and Eric Manchester and "Spokes III" (2006) with Mason Wyler.
Synopsis:
Welcome to 'Urban Spokes,' a secret sex club for San Francisco's hottest, horniest, most intense cyclists. Award-winning director Tony Dimarco captures the underground network of big-dicked, fast-moving bike studs who work hard and play hard. When Rod Peterson's chain breaks on a ride, Ryan Rose offers to help him fix it at the Spokes headquarters, but not before Ryan uses both of Rod's holes! Messenger Griffin Barrows is star struck meeting famous app developer Brent Corrigan, and Brent is so impressed by Griffin's riding abilities, he extends an invitation to join Spokes. Connor Patricks nearly collides with Spokes member JJ Knight, but instead of being angry at each other, they take the opportunity to collide JJ's massive cock into Connor's willing ass. On Friday night, Rod, Griffin, and Connor make their way down to the Spokes shop for their initiation ritual at the mercy of Spokes leaders Ryan Rose and Trenton Ducati. Who will be the newest initiate into this elite riding club? Go for a ride with the 'Urban Spokes' to find out!