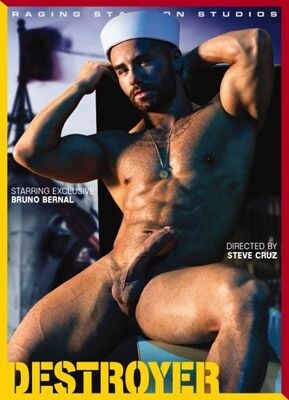 A quartet of excellent Navy-themed testosterone-drenched match-ups with an emphasis on masculine aggression.
All of the studs have code names, such as "Latrine" (which could have been interesting to explore), "Harpoon" and "Hair Trigger," which add verisimilitude but don't play into the plot. Bennett Anthony devours the cocks of FX Rios and Aaron Reese like a man starving. He chokes, gags and sweats and bellows loudly and pleasurably when they double-team him. His sexual intensity — listen to his pleasure as Reese gives him a sticky facial — demonstrates why he's one of gay adult's top performers right now.
Bruce Beckham is upset with Brogan Reed's messy bunk and latrine and orders an immediate tongue-fucking. It's not much of a punishment. Both men are brawny with thick thighs and a meaty ass. Fans of assplay will appreciate the attention to detail here. Beckham's vocal appreciation doesn't let up throughout.
Elsewhere, charismatic, bearded Teagan Zayne is a good match for Spencer Whitman. Both are nicely hung otter-types. They playfully grin and kiss with passion and eagerly flip-fuck with a seemingly genuine connection.
The fourth and final scene has firecracker Bruno Bernal (pictured on the DVD insert) immediately seduced without pretense by the equally intense Gabriel Taurus. Bernal gasps and groans as Taurus drills deep with his imposingly thick destroyer. It's straightforward sexplay between two guys who appreciate a good ass-pounding.
Cruz directs with his usual precision and eye for detail. Special kudos to the film's art direction and evocative lighting.
Synopsis:
Step aboard the RSS 'Destroyer,' a warship with a full complement of thirsty seamen who must turn to each other for sexual release. Director Steve Cruz captures the pent up sexual antics of these hung, hairy and horny sailors. Bennett Anthony, Aaron Reese, and FX Rios get things going with an enthusiastic three way, exploring each other's muscled bodies with erotic intensity. Super hung Bruce Beckham disciplines Brogan Reed with more than basic training. Hairy studs Tegan Zayne and Spencer Whitman have a flip flop in the boiler room that leaves their fur drenched with sweat and cum. Bruno Bernal and Gabriel Taurus don't hold back when it comes to their sexual urges. Sign up with the crew of the Raging Stallion Studios 'Destroyer' and report for heavy-duty man on man action.