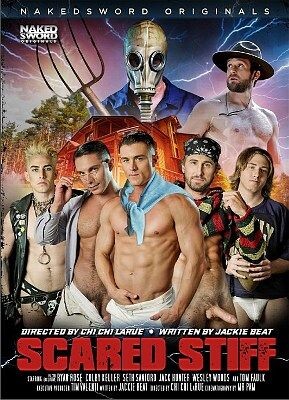 An A-list roster of talent (both in front of the camera and behind it) populates this amusing, erotic homage to B-list slasher flicks, with an emphasis on oral sex, from directrix Chi Chi LaRue and NakedSword Originals.
"We have a flat tire. The phone's dead. No girls. I'm as frustrated as a colorblind guy trying to solve a Rubik's cube," whines Ryan Rose as a horny prepster bulging out of white booty shorts, one of five stereotypes from Jackie Beat's wink-and-nudge screenplay, set in 1985, that includes a stoner (Wesley Woods), a nerd (Seth Santoro), a jock (Tom Faulk) and a goth punk (Jack Hunter) as well as a mysterious ranger with his own agenda (Colby Keller).
A brisk 10 minutes of dialogue dispenses with the storyline and the rest of the two-hour fuck flick focuses on sexplay. Special props to Santoro, who stays in character throughout his passionate flip-fuck with Hunter and smoothly delivers broad one-liners. His physique is exceptional. Meanwhile, the handsome young Hunter embraced the punk aesthetic and completely changed his usual look for this part.
Keller's oral-only rut with Rose is appealingly aggressive and a serious scorcher. The two men collide as they down each other's cocks and furiously make out as if they were starving. Rose has a penchant for sexual aggression but needs a partner who can match that kind of pushy, pile-driving energy and Keller is more than up to the task.
Elsewhere, Woods and Faulk rut in another passionate encounter inside a tent. Woods is a terrific performer with actual acting chops and comic timing. His stoner routine is genuinely funny. As a sexual performer, he's intense, focused and highly vocal and he virtually eats the more passive Faulk alive.
The final vignette introduces the alleged masked killer into the group for a spirited orgy that puts the extremely capable Hunter and Santoro center stage again. Everyone shares in the oral-centric action, but these guys take most of the cock. At one point, Rose furiously pounds Hunter as if it was the last ass he was ever going to get to fuck.
Jackie Beat, in conjunction with Calpernia Addams, also contributes a parodic closing theme song. The crew includes such adult-biz notables as mr. Pam, Kristofer Weston, Adam Q. Robinson, Sister Roma and Trenton Ducati, all of whom contribute to the film's technical polish.
Synopsis:
Five horny studs form the class of '85 head up to a cabin in the woods for the weekend. They've got weed, booze, and the girls are on the way. But a knock on the door brings chilling news... there' s a killer on the loose! Who is the man behind the mask? Who will be the first one killed? Will anyone make it out alive? Most importantly, will the guys get laid? Find out in... Scared Stiff.