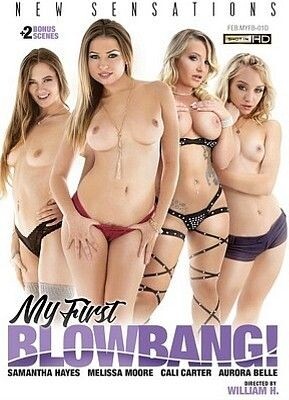 Four delectable young ladies each take on a minimum of five guys in this nasty New Sensations gonzo, helmed by super perv director William H., with scorching — and, of course, literally sloppy (a beautiful thing!) — results.
Melissa Moore, perhaps the most classically beautiful of our four slut-babes, is an absolute joy to behold as she glamorously poses for the camera (as do all of the young ladies before their multiple manroot suckoffs), followed by a (thankfully!) short interview, and then the freaky pro-seedings, with Moore really going to town with her tonsils on a total of five one-eyed trouser weasels.
In each scene, there's also some thirsty fella sucking the lady's cunt, while the other bros drill her mouth, with this particular bottom feeder (literally!) eventually coming up for air and, in Melissa's episode, getting the suckoff of his life with mindbogglingly marvelous Moore, who has now become one of my all-favorite dicklickin' darlins/cockchokin' coquettes.
Samantha Hayes is also a great oral mistress, with plenty of smiles on her face as she happily sucks off five veiny cudgels; while Russian spinner Aurora Belle (preciously calling the blowbang a "blowgang" during her interview) is a bit more serious in her multiple manroot mouth marathon, but no less filthy in her delivery of the dirty deed, as she gags, gasps, chokes on six (count 'em six!) slime-devils.
Lastly, big-busted, thick-figured Cali Carter does some fine fellatio foraging with six albino salamanders, as the little beasties are separately crammed/jammed down her gullet, with Carter (unlike the other three ladies) eventually getting her make-up a bit runny, but not too badly, i.e., it doesn't make her look at all unattractive, just… well… wet. Very wet!
Hopefully "My First Blowbang!" is the start of a brand-new New Sensations series, seeing as how the torrid, energy-driven title is most definitely kickass. Good job, Squire Nutsack! — and keep the cute girls coming! — in an inevitable cocoon o' cum!
Synopsis:
These sexy sluts are ready to take their blowjob skills to the next level! Join Samantha Hayes, Melissa Moore, Cali Carter and Aurora Belle as they suck a multitude of rock hard cocks to completion in their very first blowbangs! So get ready to cum hard and often because today, it's all about the blowbang!