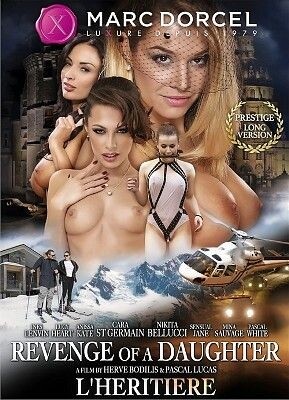 The Marc Dorcel formula of kinky sex in posh locations scores again with a tale about SM games in the upper income bracket of French society.
Mistress Nikita Bellucci roughs up rich guy Pascal White. He loves it but later he's found dead tied to a chair and ball-gagged.
His daughter Cara St. Germain is having a threeway with pals Lucy Heart and Juan Lucho when she hears the news. Nikita tells her, "The Brotherhood betrayed me." The two of them join forces to get to the bottom of things.
The Brotherhood is a secret SM organization with a private club where rich old men lead hot young women around on leashes.
Lovely Ines Lenvin takes on three guys. The girls fly to a Swiss chalet with two guys and find the gorgeous Anissa Kate working as a sex slave. She gets spanked hard by Rico Simmons and that leads to an orgy with Nikita, Cara and Ricky Mancini.
Meanwhile, in a French chateau, sweet-faced bottom Mina Sauvage gets worked over by some bad dudes. Cara's mean stepmother, the spectacularly endowed Sensual Jane, takes her pleasure with two men. Finally, the Brotherhood is undone by the two smart girls.
Synopsis:
"Don't you dare touch my daughter!" After a heated argument with his new wife, famous Luxembourgish banker Marc Seragano leaves home to meet his mistress, Nikita, to enjoy some of the most perverse S&M sex games. After he is found dead, all fingers point to the dominatrix. His young and charming daughter, Cara, vows to find out the truth about what happened, no matter what price she has to pay. Convinced of Nikita's innocence, Cara asks her for help to find the real killers. The shadow of a secret organisation hangs over their investigation. The two young women gradually descend into hell, offering their gorgeous bodies to unscrupulous men in exchange for information, agreeing to do whatever it takes to win the trust of this clandestine organisation. From blow jobs in the roughest parts of town to gang bangs in luxurious properties, Cara and Nikita will lead you to the Manor, where the most sinful sexual initiation ceremonies take place...