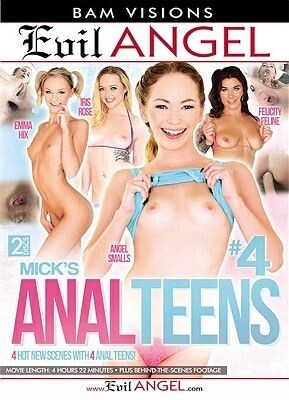 With a series titled "Anal Teens," how can you fucking resist? Actually, wiry Angel Smalls and succulent Felicity Feline are positively irresistible as these off-the-scale cuties get their colons (and tonsils) thoroughly cleaned by that ubiquitous anal Austrian Mick Blue.
Emma Hix and Iris Rose are nothing to scoff at, either. Emma, like Angel, is a little spinner but a relatively quieter one, while Iris has a sexy kind of fair-skinned British look (you almost expect her to speak with a London accent; but she's, believe it or not, from Texas), yet she's more bubbly than Emma; still, both ladies love their asshole probing a la Mick the charming prick. And check out the way each girl chokes on cock with a little ATM flavoring. Thankfully, too, Mick doesn't forsake vaginas, as well, in any of the four scenes.
But let's get to the amazing Angel Smalls (who's apparently 23, but looks, and acts, as if she's only 18). Ms. Smalls is just so perky and lively, whether she's choking on cock or savoring her ATMs. And she seems to get more and more revved up and horny as Mick drills her dung ditch. Hell, I don't even mind her unique-looking pussy lips, which, given the opportunity, I'd gobble up like a steaming Arby's roast beef sandwich. She even farts charmingly. Sweet! Yep, she's a new fornicating fave o' mine. You'll adore her, too. Trust me.
And the gonzo ends on a strong note, indeed, with the somewhat more mature-acting Felicity Feline, who has a pretty face and killer bod, the latter made all the more delectable when our brunette babe is fully bent over on hands and knees, to reveal a marvelously meaty derriere. And check out the great overhead angle Mick gives viewers when he's sliding it in and out o' foxy Felicity in the doggie position. Otherworldly!
"Anal Teens 4" is truly a wanking winner, with not a bad young lady in the house, and it's hard to believe these sweet-looking things are so nasty. Thankfully they are! Dig in!
Synopsis:
Award-winning stud/director Mick Blue showcases a splendid assortment of bold, bright-eyed teens that adore filthy, hardcore butt fucking. Mick's Anal Teens #4 is loaded with hot, pounding sodomy; drool-drenched, ass-to-mouth deep throating; and explosive cum climaxes. Spunky teenage tart Angel Smalls shoves a huge butt plug up her bunghole to prep for her epic anal date with Mick. Her pussy squelches when the big-dicked dynamo plows her cunt, and her sphincter gapes widely when Mick stretches it with a dildo. Flexible ex-gymnast Emma Hix wears leg warmers and pink booty shorts, masturbating with a plug expanding her anus. A sweltering ass reaming includes rectal gaping, and the petite cutie slurps Mick's prick to a sperm-swallowing climax. Adorable, cock-hungry blonde Iris Rose enjoys fervent foreplay with Mick, and she buzzes a vibrator over her clit while he pummels her asshole. Iris tastes sloppy A2M flavor and gets her face glazed with jizz. Flexible fox Felicity Feline twerks during a frisky, selfie-styled tease and takes a backdoor dick-down courtesy of Mick. Passionate, no-holes-barred copulation culminates in a creamy mouthful of cum.