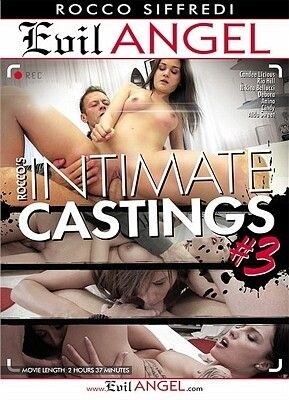 Hungarian, Romanian, Austrian and French whores of the first rate fill not four, not five, but six (count 'em six!) scenes in this marvelously nasty gonzo from director/performer Rocco Siffredi and Evil Angel; with high points, indeed, going to Candee Licious, Ria Hill, Cindy, and, of course, (the amazing!) Nikita Bellucci.
Here the basic drill (no shit!) is Rocco interviewing newbies as he handles the camera, with various studs porking the fine, young bitches; and we're off to a magnificent start with 20-year-old Hungarian blonde Candee Licious who, though not taking it up the crapper, generates an intoxicating amount of charm and energy — with a thin, all-natural, yet, nonetheless, curvy body that was born for porn — which'll drive you (and your!) nuts. A fine cocksucker, too, as she's heatedly manhandled by the semenly ubiquitous (in this movie, at least) Chad Rockwell.
Rocco at one point hands the camera over to some babe so that he can pork 18-year-old Hungarian Anina (nope, he doesn't bust her anus), getting her tonsils and twat good and worked out, while some (per Rocco's info) Italian boxer named Nando La Motto slams it to big-boobed, highly spirited Romanian Aida Sweet, with mega-titted/big-eyed Aida sucking and fucking with great aplomb; so much so that we'd love to see her take it right up the patooti in another movie.
But, I especially loved tall, 23-year-old Austrian sweetie Ria Hill (who's apparently an "operator" in the real world) getting pummeled by little Victor Solo, who really hammers this (can you believe?!) shy honey in mouth, cunt and shitter (in that order); while I also adored 19-year-old Hungarian cherub Cindy, who similarly gets all three holes heavily probed by big bad Chad. And check out what a great pair of ass cheeks beaming, happy and (thank heavens!) horny Cindy shares with her audience. Love this girl!
Another highlight, of course, is 25-year-old French XXX wonder Nikita Bellucci who, as you'd guess, gets her brown-eye mightily poked via Rockwell's cockswell, while Debora (on whom we have zero stats) is strictly around to eat Nikita's pooper and pussy (lucky girl!). Nikita, as usual, digs every second of her shithole skewering. What a priceless whore!
Actually, there are lots o' priceless Euro whores in "Rocco's Intimate Castings 3," with the girls showing provocatively different personalities — giggly, demure, bubbly, quiet — but all of 'em cunt-sistently loving their position(s) and heroically proving themselves true on-camera sluts.
Synopsis:
The busy office of Italian porn mega-stud Rocco Siffredi has been the gateway to erotic exposure for many young, aspiring starlets. In Rocco's Intimate Castings #3, the legend welcomes a fresh batch of beautiful sluts (as well as some special veteran bombshells) to his audition space, where he tests their talents with the help of a couple of handpicked cocksmen.
Gorgeous blonde Candee Licious gets dominated and fucked by muscular Chad Rockwell, and afterward receives a mouthful of hot sperm. Slender brunette Ria Hill encounters Rocco's old friend Victor, who invades the petite minx's every hole. French stunner Nikita Bellucci enjoys a nasty, ass-to-mouth threesome with Chad and tanned brunette Debora. The ladies share a mouthful of splooge. Anina, a beautiful, 18-year-old, can barely fit Rocco's gigantic cock in her tiny mouth! Chad breaks in sassy brunette teen Cindy, ferociously pounding her pussy and asshole. Romanian vixen Aida Sweet rides Italian stud Nando La Motta and gobbles up his cum.