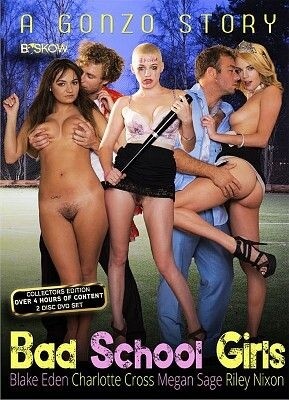 B. Skow's new gonzo story opens with a wallop: young, pretty Riley Nixon is being exquisitely annihilated at a drunken orgy by Chad White and Damon Dice, facilitated by their girlfriends, and with the help of a black baseball bat.
Flashback to graduation night and Chad is sweet-talking Riley as another blonde, Blake Eden, masturbates in the background. They have lovey-dovey sex.
Back to the party: Riley is dumped in the shower with 'Whore' scrawled on her forehead. You can see by the way she looks in the mirror that she's bent on revenge — armed with the bat.
Michael Vegas sneaks up on a sleeping Charlotte Cross and tries to wake her with his dick. He does, leaving her with a creampie. They are in the midst of a breakup fight when Riley bursts in with the bat. Damon and Megan Sage return to the scene of the orgy for more sex.
As they relax post-coitus they get a rude surprise. Riley stalks Chad and Blake without their knowledge. They settle down for a nice bout of sex — as the avenging angel waits outside their hotel room door. This "Carrie"-style shocker is effective even without the gory details.
Synopsis:
LUX, pretty and usually put together, is now bent over a hotel bed with her skirt hiked up just under her tits as TRIP, sweaty and wild eyed, pounds her from behind while her school girl friends heckle her. This is ok with Lux because she would do anything for Trip in hope of being his girlfriend. When she realizes things didn't work out like she dreamed, Lux sets out to make things right with the same bat that was rammed up her ass the night before. B. Skow seamlessly combines an intriguing story with passionate sex, creampies, facials, and beautiful young school girls in this all new edition of his award winning series "A Gonzo Story."