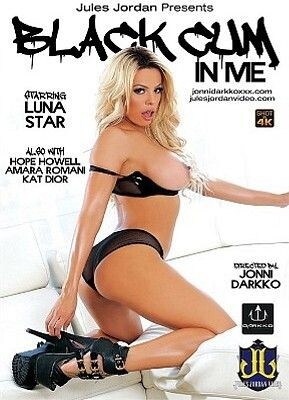 No, the cum which blasts forth from the two black gents here is not, despite this gonzo's title, similarly black. It's just normal, run-of-the-spill sperm. And that same slime gets caught up in some fine female anuses and cunts in this rockin' Jonni Darkko interracial "entry."
We start off with one of my favorite porn starlets, Pennsylvania-born Amara Romani, who is one of the most volcanic, absolutely outrageous sluts out there today, the proof being in her electric scene with handsome Moe Johnson. This girl deepthroats his big black worm so long, her eyes start to water. And she does it repeatedly! Aside from intensely sucking cock, she loves it deep up the asshole, has a perfect body (what a sweet pair of little tits and a great juicy butt!), and was simply meant for this business. Check out how she consumes the "black cum" from her anus through a long plastic tube. Nasty!
Twenty-seven-year-old Cuban lovely Luna Star (dig those awesome bumped-up boobies and, yet another, meaty fucking ass!) might not take it up the stink hole (in this flick, that is), but she sure adores Isiah Maxwell jamming dark salami down her tonsils and twat. Some nice doggie action, too. And observe how nice those boobies look from an X-ceptionally low angle during reverse cowgirl.
Another Latina beauty is 20-year-old L.A. vixen Kat Dior, who's so pretty, the girl really looks as if she's in the wrong biz — thank heavens she doesn't act like it! Talk about taking a pud way up the patooti! Amazing cock-gagger, too! Just wish little Kat would've moved her hand away from her ass cheek while Monsieur Maxwell was reaming her rectum doggie style so we could get a full view of the dynamic decadence. Still, it's yet another great raunch scene.
Lastly, 25-year-old California girl Hope Howell takes it up the vadge, then a little up the crapper care of the returning Mr. Johnson, with Hope looking like someone you know from work — but acting, (again) thankfully, like a total fucking slut. Like her three filthy female predecessors, Hope's a fine dick-choker, while she looks positively amazing getting butt-banged in the spoon position.
Even though the veracity of some of the creampies here may be in question, this interracial and — for the most fart, er, part — anal title is filled with four raging whores, especially Ms. Romani, and, trust me, it does not disappoint!
Synopsis:
Black Cum In Me, Jonni Darkko's FIRST Creampie movie, features four sessions of interracial hardcore - huge dicks with equally huge jizz injections for these cum-hungry sluts. Little babes Amara Romani and Kat Dior prefer their money shots in the ass while little Hope Howell and stunning Luna Star want a good old fashioned cream-filling. Over 3 Hours of All Interracial Creampie Action Shot in 4K.