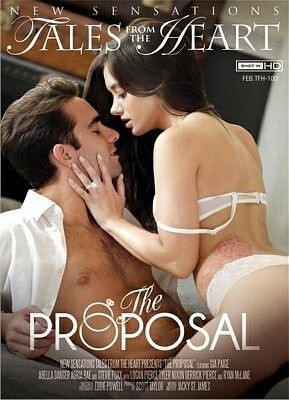 Writer-director Jacky St. James lays it on a bit thick in this excellent couples outing about marriage proposals, but the lovey-dovey stuff is really convincing.
Tyler Nixon keeps screwing up trying to propose to Adria Rae. He even loses the ring, but she finds it while doing laundry. They smile a lot and actually look like they're in love.
Ryan McLane can't believe he loves a woman as fine as Abella Danger. She believes in sex "anytime, anywhere." He gets down on one knee and proposes, she accepts and is all tears. After a great fuck he comes on her fine round butt.
Logan Pierce loves Gia Paige but has to leave her when he gets accepted to Oxford. He misses her but thinks everything will fall into place when he proposes. They get engaged during his holiday break and she goes back to England with him. They have great chemistry as a couple.
Stevie Fox, says Derrick Pierce, was "the most incredible woman I've ever known." After a one-night stand he doesn't want her to go home. Unsure how to propose to her, he suggests a mutual tattoo session. They get married the very next day, after a really good fuck.
Synopsis:
The course of love never did run smooth. On again-off again lovers, Gia and Logan, find themselves at a crossroads when a long-distance relationship them to confront their innermost desires. When longtime bachelor, Ryan, finally decides to settle down and propose to his girlfriend, he is in for a surprise when she tells him that she thinks marriage is a bad idea. Derrick hatches a plan for a one-of-a-kind proposal after he falls desperately in love with his one-night-stand. After a series of roadblocks prevent Tyler from proposing to his Adria, he fears neither of them will ever have their "happily ever after."