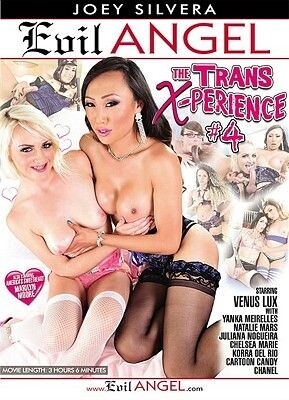 Joey Silvera's latest starts off with a bang as TS superstar Venus Lux massages the big round ass of blonde cis-female Marilyn Moore. "I like to come and come and come," coos the Colorado girl and Venus is ready to make that happen.
"It's lesbian girlfriends day," she giggles. Venus strokes her cock as Marilyn plays with her full natural breasts. Venus fucks her pussy and Marilyn reciprocates with ass licking and dick sucking.
Korra Del Rio, a tall redhead from Milwaukee, with tiny tits, gets it on with Chelsea Marie, an amply tattooed brunette with long pink nails and the look of a star. Korra sits on her big stiff dick and pumps furiously.
Then it's off to Brazil for the very glamorous Juliana Nogueira, a Silvera veteran. She strips off her cute police costume and plays with the big dick of stud Alex Victor. He fucks her ass until she moans, then shoots all over her big tits.
Next comes a masturbation-only scene with two Asian cuties, Cartoon Candy and Chanel. Bespectacled Natalia Mars has a hard-fucking with black stud Robert Axel. Wrapping things up is Yanka Mereilles, cafe-au-lait colored, very pretty, who sucks Alex's dick.
Synopsis:
Legendary ladyboy wrangler Joey Silvera presents The Trans X-Perience #4, wherein supremely hot, ultra-feminine TS bombshells indulge in hardcore fun - one-on-one with horny dudes, kinky women or other T-girls!
Young, blonde bio girl Marilyn Moore has her very first transsexual encounter courtesy of glamorous she-vixen Venus Lux! Venus pounds kinky Marilyn's sweet pussy and takes an ass fucking from Marilyn's strap-on dildo. Tall, exquisite TS supermodels Chelsea Marie and Korra Del Rio take turns sucking she-dick and getting anally reamed, and each enjoys a tasty cum facial. Petite Thai ladyboys Chanel and Cartoon Candy, both clad in lingerie, share a luxurious mutual wank session. Latina she-diva Yanka Meirelles takes a big, throbbing cock up her tender asshole. Her pretty face ends up decorated with creamy cum. Pale trans babe Natalie Mars rides muscular black stud Robert Axel and slurps his big black cock ass-to-mouth. Brazilian T-queen Juliana Nogueira poses in a skintight police outfit! Eager stud Alex Victor slides his cock inside the wayward officer's rectum and splatters her tits with jism.