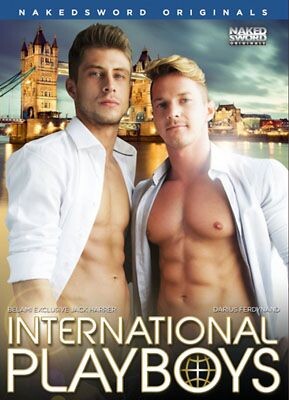 This quartet of standalone vignettes features a wide spread of body types and ages, but all of them are romantic and playful with a focus on chemistry and connection between the guys that leads into passionate sexplay. Another winner from NakedSword Originals and director mr. Pam.
Handsome young buck Jack Harrer is a BelAmi treasure and he's paired with Darius Ferdynand here. The preamble is nicely filmed at street level (watch for another couple of BelAmi cameos) and focuses on their flirtation. Back in a hotel room bed, they explore their bodies and whisper to each other quietly as a welcome erotic tease that reinforces the film's theme of connection. Harrer is slim and smooth with a beautiful oversized cock while Ferydynand is a handsome blonde stunner with a gorgeous, fit physique, ridged abs and a round bubble butt.
Elsewhere, boyishly cute Mickey Taylor is on a date in the city with controversial performer Cameron Diggs. Their flirtations and shy grins are quite appealing and the sight of both men — each of them lean with dark hair and heavily tattooed in crisp white button-down shirts — offers a heavy dose of aesthetic appeal. Taylor is a rising sex star and he's got a big job trying to match the intensity of Diggs, who aggressively face-fucks and throws an assured, pistonlike fuck — his formidable python trussed with a bright silver cock ring — into the younger Taylor, who blasts out a geyser of cum.
Elsewhere, veteran sex star Rafael Alencar — still rakishly handsome with a gorgeous plush ass and that famously thick, plus-sized boner — is paired with notable newcomer Rikk York, a furry and heavily inked sexpig. Their chemistry is apparent as they strip each other naked and Alencar dives immediately into York's hairy black-jock-strap-clad ass before they even blow each other. Who can blame him? Kudos to mr. Pam for going with the flow. Alencar confidently plows York, who maintains eye contact and groans appreciatively throughout as Alencar plugs him half-a-dozen different ways and dumps a load onto his tongue and scruffy chin.
The final scene brings back Mickey Taylor for another adorable date. This time it's Kayden Grey, who is ruggedly handsome with a Roman profile and a lean, ripped swimmer's physique. They fuck on a chair in front of a window, the setting sun streaming in behind them. Taylor's chemistry with Grey is much more playful and he appears to share a genuine connection with Grey as he delivers another explosive cumshot.
Mr. Pam's welcome attention to detail is apparent in her camerawork and editing, which is fluid and attentive. She particularly seems to enjoy showing the men flirting and carousing around town (the sex was shot in Chicago, London and New York). It's cute but never twee. Gay porn is far too often hammer-and-tongs sexplay with only the barest setup but Pam understands a bit of time and attention paid to flirtation and foreplay can be just the right ingredient.
Synopsis:
Meet the International Playboys, the most charming, handsome, stylish and well-traveled adult stars in the world. Hailing from around the globe this elite group of horse-hung jet-setters takes you on a sexual journey that covers two continents in four scenes of mind-blowing, over-the-top action. Whether you prefer to make love in London, suck cock in Chicago, or fuck big bubble-butt in New York City, you better pack your bags and have your passport ready. This is one adventure you don't want to miss!