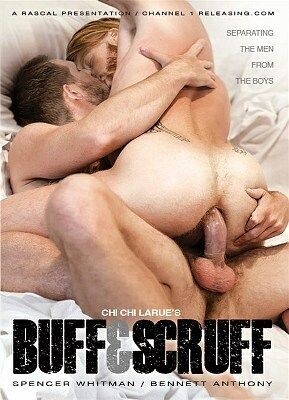 Three scenes of top-notch, highly vocal sexplay with an A-list cast of hairy, scruffy studs, among them returning fan-favorite Bruce Beckham, at the top of his form, and charismatic ginger stunner Bennett Anthony.
Quietly magnetic Brendan Patrick and bearded topman Tex Davidson cruise each other on the street. Indoors, they proceed to a passionate makeout session on a white couch in front of a picture window with sunlight streaming inside. Patrick's wide-eyed appreciation for Davidson's beer-can-thick python is a nice grace note; so is a mirror on a nearby wall that allows Davidson to watch himself as he aggressively fingers Patrick.
Anthony and Spencer Whitman are featured, mid-embrace on the cover. They cruise each other in a sex shop — Chi Chi LaRue's in West Hollywood, and it's a sign of Whitman's attraction for Anthony that he doesn't charge for a purchase of lube — and tumble into bed. A camera nearby feeding to a monitor hung over the bed, not to mention a large mirror, adds a voyeuristic aspect to the sexplay that Anthony particularly seems to enjoy. The scene kicks off with Anthony — whose plush ass framed by a red jock strap is a thing of beauty — exploring Whitman's pits and includes vigorous fingering, nipple play, deep kissing and lots and lots of groaning and moaning.
Elsewhere, Wesley Woods can hardly believe his luck at the chance to service chiseled Beckham, who is back in front of the camera looking better than ever. He's quite a slab of blonde, tanned beef and it's a delight to savor his wry, understated confidence as he puts the incredibly eager, vocal Woods through his paces for a bout of morning sex. They flip-fuck on the kitchen counters and floor and Beckham cums as he's being fucked while Woods produces a vocal, body-quivering orgasm that drenches Beckham's handsome face and chest.
Synopsis:
Separating The Men From The Boys. Unstoppable cocks meet insatiable holes in jizz-filled tales of getting off on men and their scruff!