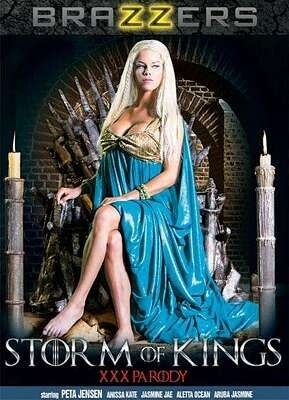 This "Game of Thrones" parody (of the non-comically satirical kind) presents an impressive batch of special effects (including a few cool beheadings and a fire-breathing dragon), some nice makeup (specifically, a small army of zombie-like tree people), lavish-looking sets and costumes, and some not-so-bad acting (Ryan Ryder as an evil king/ruler/whatever is particularly good). But, the absolute best thing about "Storm of Kings" (because this is porn isn't it?) is the sucking and fucking. And among the four boinking scenes, there isn't (hooray!) a single bad one.
Actually, perhaps the best episode of carnality occurs right at the start, as Ryan Ryder takes on a pair o' Euro whores: the gorgeous and incredibly stacked Anissa Kate (29, from Lyon, France) and slutty, balloon-bosomed Jasmine Jae (33, from Limey Land). Anissa, bless her soul/hole, takes it up the ass, with Jasmine licking it clean after each and every stink-sticking, while the girls' mouths also toil well over Ryder's rod.
Another good jam session is a follow-up threesome, this time between Aruba Jasmine (28, from Londontown), Peta Jensen (25, the only Yank among the lot of slots here) and (a very Simian-looking) Rob Diesel, who's so steroid-pumped, he looks like he could break both bitches in half just by sneezing. Diesel is great, regularly slapping these blonde sluts in the butt cheeks while doggying them, while also ramming his own monster meat down their more-than-willing gullets. The exotic-looking Aruba is particularly a kick to watch getting slammed from behind.
And let's not forget Aletta Ocean (28, from Hungary) and the returning Peta Jensen taking on, in separate scenes, scone-eater Mark Rose, respectively, with both ladies showing off their porn-perfect physiques and using them whorishly well; though I was a smidge disappointed that Aletta (who's always down for an ass-fuck!) did not offer any anal; while I also felt a bit cheated that there was no blowjob moments from Jensen in her second scene. For shame! Still, a lovely view/screw all around.
With fine production values and a similarly laudable group of great-looking, dirty tramps, "Storm of Kings" is a good selection for both light-hearted couples and heavy duty degenerates (like me!).
Synopsis:
Welcome to the world of Storm Of Kings, where evil King Jasper rules with an iron fist and a hard cock. Daniellys Tarus bargains with Coral Drogus for some ships by offering sex with her and her hand maiden. Meanwhile, John Doe is put to the test by Isla and the Wild Ones after taking on a forest full of dead walkers! In the end, John Doe arrives to at the castle to face King Jasper's wrath and is saved by Daniellys Tarus's fire-breathing dragon. Daniellys takes King Jasper as her King by fucking his brains out!