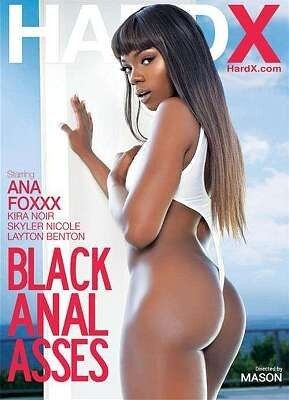 With a title like "Anal Asses," there sure as hell better be some anal sex in there. And, sure enough, there's loads of butt-fucking bruthahs 'n' sistahs! The results are, in fact, X-traordinary, with each of the four ebony cuties putting in a fabul-ass sperm-formance, particularly the beautiful, ultra-juicy, highly edible Skyler Nicole.
The two spinners here are DVD cover girl Ana Foxxx , 27, and Kira Noir, 22, with each lady digging her slamming by a Euro bro. Ubiquitous Frenchie Manuel Ferrara pounds Ana, while Kira takes on the similarly over-exposed cock of Austrian Mick Blue. Ana and Kira are both somewhat laid back in their porkings, which is truly horny in itself, with both ladies not showing any problem licking their shit offa the butt-soiled worms of Manny 'n' Mickey (sounds like a comedy team, dunnit?).
Now, while 24-year-old Layton Benton might be a tad bit, well, curvier than the other ladies, she's no less of a good, hot fuck. Mick "the prick" Blue is back, hammering her silly. And while Layton is pretty; with smooth black skin; great big natural tits; and one nice big round butt, what really turned me on was how turned on she gets in her scene, loving her deep anal probing, while being a fantastic cocksucker, going deep but also lathering that over-used cock like it was a priceless treasure. This thick slut is definitely a sweet slice o' chocolate cake, baby!
And our piece (of black ass!) de resistance is most certainly 21-year-old beauty Skyler Nicole, who is one of the most scrumptious and animated of the four ladies. Russian Marcus Tynai goes straight for the A, not even (why?!) bothering with Nicole's undoubtedly tasty twat. She's another great cocksucker, who doesn't mind an ATM, while it's magnificent watching her get that luscious booty slammed from behind.
With excellent videography (including terrific glam footage) totally complementing its quartet of sweet and slutty ebony whores, "Black Anal Asses" is a gonzo you do not wanna miss.
Synopsis:
Hard X is proud to present the brand new series "Black Anal Asses". Directed by the award winning Mason, "Black Anal Asses" features an all-star collection of the hottest ebony stars in relentless gonzo anal action. Featuring "supermodel" Ana Foxxx, Skyler Nicole, Layton Benton and her magnificent 50" backside (1st anal!) and Kira Noir. "Black Anal Asses" celebrates black beauties at their very best. Do not miss this latest Hard X release.