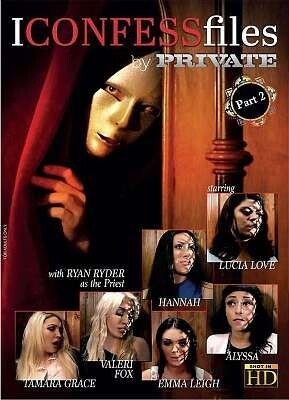 This very unusual release seems to be slanted towards porn fans that are seriously into Catholic guilt and sexually predatory priests — a niche audience if there ever was one. For those not so obsessed it's a bit hard to take, given the sameness — and grimness — of every scene.
Each of the 25-minute vignettes proceeds in exactly the same way. A woman enters a confessional and confesses something about sinful sex — adultery or just plain lust. The penance is to suck the priest's cock, which he sticks through the confessional window, a sort of holy glory hole.
The priest is English actor Ryan Ryder wearing a face-covering mask, a hood and black robes. After he face-fucks the girl he climbs awkwardly into the tight confessional booth and pussy-fucks her usually from behind. Once in a while there's a cowgirl or mish. After he unloads on her he grants the girl forgiveness, often telling her "try not to fucking sin again."
Emma Leigh has big tits and an incomprehensible English-regional accent. Tamara Grace is a tall hot blonde. Lucia Lowe is an earthy brunette. Valerie Fox is a busty bawdy-looking blonde. Alyssa Divine is a Caribbean cutie. Hanna Shaw is another brunette.
Synopsis:
I Confess Files Part 2: Witness twisted revelations and unspeakable acts!