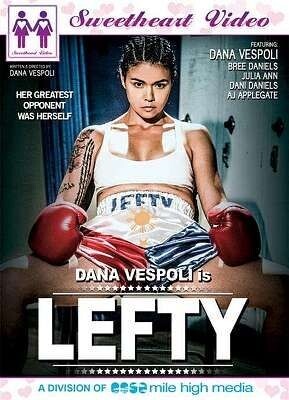 Dana Vespoli directs and stars in a convincing Rocky-style boxing story about Lefty, a women's sports legend and all-out lesbian. Lefty is at the top of her game, a world champ, but when her beloved coach suddenly dies she is devastated and goes into retirement.
An ambitious young journalist (Bree Daniels) sniffs out a comeback story and wrangles an interview with her. Lefty declares that her boxing career is over but Bree convinces her to take up the challenge thrown down by a new fighter and defend her crown.
The four sex scenes are all low key but realistic, starting with Lefty and girlfriend Alexis Texas (playing herself, for some reason). Vespoli, with her tats and corn-rows, makes the perfect top girl, and that Tex-ass remains fabulous. Bree has a scene with older girlfriend Julia Ann, rather mild, but two great-looking women.
There's a nice interlude with Alexis and two dancers (Dani Daniels, AJ Applegate), and finally, an emotional, even romantic, encounter between Dana and Bree after Lefty makes some confessions (movingly played) about her unhappy past. Vespoli is totally believable as a fighter and lover, Bree acts well and the boxing locker room milieu is extremely well captured.
Synopsis:
Dana Vespoli plays Linda Lefty Lumaban an undefeated boxing champion who abandoned her career at the top of her game, leaving behind an illustrious career, a beautiful girlfriend, and staggering wealth. Bree Daniels plays Erin, a hip journalist who decides to track down the elusive boxer to see if she plans on making a comeback. Join Erin on her odyssey as she interviews Leftys ex-girlfriend, Alexis Texas, discovers dark secrets from Leftys past and finally comes face to face with the brooding boxer in a climactic ending.