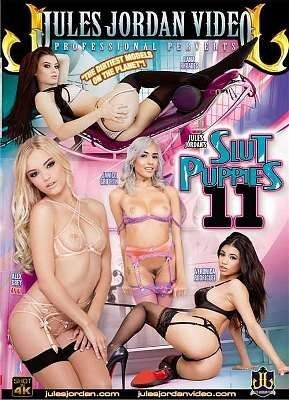 It's yet another superb installment of Jules Jordan's long-running, highly anticipated series, with this eleventh outing (hard to believe there are just 11 episodes in the series after so many years) being worth the wait, as each of the four girls are fabulous fuck-'n'-suck sockets, with the entire gonzo being marvelously bookended by super vixens Alex Grey and Lana Rhoades.
Naturally, I don't wanna take away any fire whatsoever from the priceless poon of ethnic sweethearts Janice Griffith and Veronica Rodriguez, both performing like professionals convincing the viewer that, yes, you'd like to simply ravage them yourself in bed. Janice, although appearing a few pounds underweight and wearing a rather appalling grey (!) wig (or is that really her own mop top?), is a delightful spinner who seems to truly relish her time blowing — before being blown out by — Flash Brown's not-brown-but-black monster meat. Director Jordan saves luscious Veronica Rodriguez for himself (smart guy), with Vera Rod knowing precisely how to ride rod in the cowgirl position, while deepthroating/choking/drooling quite a mean prick.
But Alex Grey and Lana Rhoades? — these lassies send me like you wouldn't believe. I even dig their mainstream-movie-star-like names. Lucky French prick Manuel Ferrara gets to hammer blonde Ms. Grey, not only in the twat but the butt, as well. She's a terrific gaper, by the way, who doesn't at all mind an ATM served up fresh and piping hot; not to mention (but I will) the fact that she's drop-dead gorgeous. Yet another wondrous porn spinner.
Brunette Lana Rhoades is also a joy to behold. She's, yes, a wiry little spinner, as well, with Jules saving her all for himself (told you the guy was sharp). I love the way Lana ever so lovingly sucks a cock. Slow. Deep. Unrushed. Meaningful (or, well, as meaningful as a blowjob can get). Plenty of eye contact, too. She's similarly passionate in a horny, almost sleepy way, in each and every position. And what a pair of butt cheeks/tits on this chick. Mama!
These four young ladies may be "slut puppies" but, trust us, not one's a dog — and you simply must X-perience, even if only vicariously (yes, life is mercilessly unfair sometimes) super tarts Alex and Lana.
Synopsis:
Young sluts get their pussies and assholes devoured by big cock and never walk out the same. These young hotties have felt pleasure like they never have before and are forever changed into cock loving whores for life!