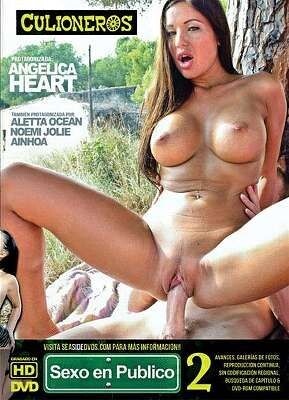 From the total degenerates (a good thing!) at BangBros.com, this foreign title from Culioneros (that means "pimps" for all you wannabe cunni-linguists out there) features outdoor sex (pity there aren't any people around, other than the performers and cameraperson) with fuckable Euro gals, especially the amazing Angelica Heart.
Ainhoa (there's a kooky name for ya!) is a toothy, cute, passionate Spanish spinner — the youngest of our quartet — who likes to kiss and makes horny eye contact when getting skewered by veiny sword, even in the outdoors, somewhere in Spain. She gives a deep, loving blowjob, as well. And, while the sun might go down as our Euro gent is slamming Ainhoa, we thankfully don't lose any sight of her choice fresh tart's body.
Hungarian beauty Angelica Heart, 33 (but looking much younger) has a killer figure, refuses (in a nice way) to speak Spanish to the stuttering goobers (good for her!), and loves every bit of her drilling in some weed-infested front section of an abandoned home out in the country. So much for sex in public! The sex, however, is still good, as Angelica is just so damn gorgeous, including not only her model's face but choice tits and ass. Excellent blowjob, too.
And speaking of blowjobs, one of the best is delivered by 33-year-old Spanish native Noemi Jolie, who passionately blows a lucky Spaniard in the stairwell of some apartment complex, before they make it to the roof and fuck there. Noemi is the only chica who fucks with a condom, but that's okay, as she's so real and down-to-earth, it's a turn-on watching her suck/fuck any which way.
Finally, rampant 28-year-old Hungarian whore Aletta Ocean — who'll fuck anyone, anywhere, anytime (for a price!) — gets it on with a Spanish bloke on a yacht out in the (you guessed it) ocean, with the "sexo" being a bit too short; although Aletta is always fun to watch, being the cock-inhaling slut that she is.
"Sexo En Publico" is raw gonzo that's definitely worth a look due to its alluring female cast. I just wish someone would put a gag on that non-stop blabbing, totally irritating cameraman. Damn!
Synopsis:
Aletta Ocean - Attractive lifesaver! Noemi Jolie - Roof, tits, and temptation! Angelica Heart - Sex and landscape! Ainhoa - Ainhoa and the ocean!
close
E-mail this to a friend
Sexo En Publico 2
Email sent. If you wish to send to another person, click here.