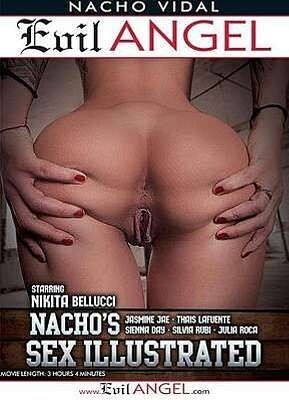 Crazed Spaniard Nacho Vidal is up to his old tricks again: fucking totally hot Euro women in non-descript apartment rooms, as well as his haunted-looking, abandoned warehouse (though not necessarily in that order), covering (ultimately with Spanish spunk) delectable foreign goods from England, France, as well as a few babes harking from his native stomping/grinding grounds.
London lady (she's no lady, trust us!) Jasmine Jae, 33, and her hungry mouth/huge boobies starts things off with a spirited boink on the couch, followed by what's probably the most fiery scene in the entire movie, i.e., slim, molten, tattooed French spinner/super slut Nikita Bellucci, 26, who first gets Nacho's dick properly stiff/wet in the warehouse, before moving over to a more comfortable mattress (somewhere in Spain), and letting him seriously ream her mouth and twat good and hard. And, being the total anal princess that she is, Nikita simply can't resist eating Nacho's dirty stink-hole. Good (brave!) girl!
More fun to come… Spanish brunette Thais Lafuente, 32 — this movie, apparently, being her one and only title — looks and acts quite nervous, which is a turn-on, but you can still see that Thais totally digs what Nacho's doing to her undoubtedly sopping cunt, while providing plenty of truly horny eye contact throughout her passionate penetration. Blonde, big-bootied English tart Sienna Day, 25, is a good, luscious fuck, sucking a mean prick, and (like Nikita) heroically, but no less hungrily, consuming Nacho's gas bombs.
And, finally, we have a threesome featuring Spanish babes Julia Roca (26, attractively petite) and Silvia Rubi (29, heavily inked), with my favorite definitely being Julia (wearing thigh-high leather boots), who's just so damn pretty, you wanna fuck her brains out all night long! Silvia ain't chopped liver (or should we say hot gazpacho?), neither! Nacho begins having fun with these hotties in the creepy warehouse before switching to some pad (somewhere), stacking 'em up, fucking 'em up, sliming 'em up and having an all-around damn fine time. Lucky SOB.
"Nacho's Sex Illustrated" is truly potent Euro smut from Evil Angel that's definitely worth a looksee. But… er… has Nacho given up fucking these steamy whores in the craphole or what? Hmmm…
Synopsis:
In Nacho's Sex Illustrated, super-hung madman Nacho Vidal turns five photo shoots into graphic sex scenes that could never be shown in the similarly named magazine known for vivid visual imagery. Exotic Jasmine Jae, Britain's busty brick house, deep-throats Nacho's enormous erection. She wraps her limbs around the stud, intimately grinding, and he creams her puffy-mouthed pout. Nacho defiles petite Nikita Bellucci's gorgeous face and stunning, natural body. Her cheeks go concave in an exquisite blow job, and after a manhandling fuck, he fingers her to squirting ejaculations! Nacho's POV-style footage shows Thais Lafuente's brown eyes looking into the camera as she sucks uncut meat pussy-to-mouth. She takes her very first on-camera fuck! Spunky, bleach-blonde Brit Sienna Day lustfully tongues Nacho's bunghole as he sits on her face. Ass up, she fingers her anus and begs for cheek-reddening spanks as he plows pussy. Radically inked redhead Silvia Rubi and hot-assed Julia Roca get bi and share huge prick in a marathon, three-way round robin of simultaneous cunnilingus and coitus.