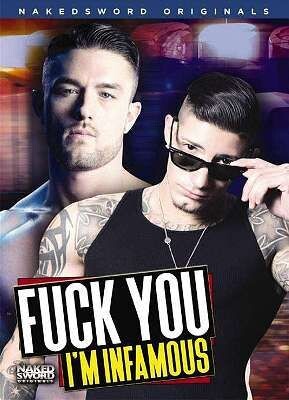 NakedSword Originals and prolific filmmaker mr. Pam spin real-life rap sheets, Twitter wars and internet beefs into a fuck flick featuring the self-styled bad boys of gay adult. Pam's attentive camera and appreciation for male beauty is apparent and the sexplay carries an extra frisson of eroticism.
Superhero-handsome dreamboat Ryan Rose and intense, inked-up Draven Torres go at each other hammer-and-tongs in what appears to be the VIP booth of a nightclub. Rose is attractively smirky as Torres worships his feet and utterly relentless as he pile-drives the much smaller Torres; he even picks him up and bounces Torres on his cock from a standing position. That's quite a workout.
Elsewhere, Diesel Washington is in utter control of Tyler Rush and makes it clear he's the boss. Even when he's sucking off Rush, Washington takes his own damn good time and it's a pleasure to behold. Needless to say, he nearly fucks Rush in half, who moans like he can't get enough. JD Phoenix and Vadim Black's sexplay is the most passionate of the film. They kiss deeply throughout, rim and make love like they really mean it. Phoenix is no passive bottom and he matches Black's intensity.
The final vignette features long, lean Cameron Diggs — inked from head-to-toe — who made a splashy debut in NakedSword Originals' "Berkeley." He's paired here with Colton Grey, blue-eyed and beautiful with an innocent demeanor that belies his erotic skills. Their sexplay begins on a sensual note and morphs into a power exchange that is crazily erotic if domination rings your bell. It's clear Diggs is in complete control and he has a bottom with Grey that can't get enough.
Also worth checking out is NakedSword's "Fuck Me, I'm Famous" with Jack Hunter, Colby Keller, Adam Ramzi and Wesley Woods.
Synopsis:
Go ahead and Google them. Police records, jail time, bum raps, DUIs, domestic violence, Twitter wars - even a shark dick - these bonafide bad boys of porn have done it all. You'll find them making headlines on TheSword.com and around the globe where their scandalous behavior, brutal honesty, and YOLO attitudes blur the lines between fame and infamy. Just ask them, they own their shit. No regrets. No apologies. Deep down they have hearts of gold and if you don't like it they have one thing to say: Fuck You I'm Infamous!