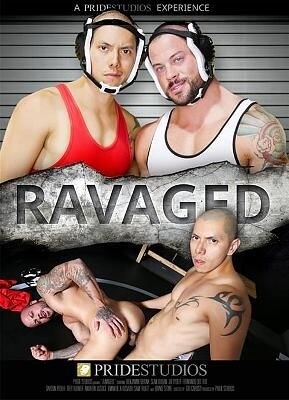 Five unrelated vignettes whose varied menus includes wrestling, POV video, body painting, adorable studpups, musclebound studs and morning wood.
Sean Duran and Benjamin Bronx suit up for a wrestling match. They bulge out of their singlets and tumble around for a few minutes before the cocks come out. Duran is older than the slim, inked Bronx, and far more brawny, so it's a pleasure to have him be the one who ends up on all fours to get reamed. He's an aggressive, vocal bottom and enjoys a thick load dumped onto his chin and lips.
Fernando Del Rio playfully, and helpfully, attends to his buddy JD Ryder's morning boner. Ryder is lean with dark good looks and an alluringly long, thick cock he slides into Del Rio's accommodating chute. Meanwhile, ever-charming Trey Turner, looking more muscular these days, leads fellow musclebod Daxton Ryder, adorably bashful, through a body-painting session that takes an inevitably erotic turn.
Elsewhere, muscular, rugged Andrew Justice wakes up the sleeping Emanuel Rosado with a camera and his cock. A bit of POV footage shows the quickly alert Rosado going to right to work on his buddy's famously thick boner with its oversized head. Justice brings in the POV camera as he briefly eats out and fingers Rosado and fucks him before splashing a wet load across his face. They share a friendly chemistry.
The final vignette has post-twink cuties Sam Truitt and Drake Stone, both of them fresh-faced, slender and smooth, returning from a joint jogging and bike-riding session for traded blowjobs. Truitt reveals a particularly thick, extra-sized boner. He and Stone show some eager skill as they slather each other's cocks with spit and jack off.
Synopsis:
There's nothing like a wrestling match to decide who gets fucked first. Sean loses to Benjamin and takes his thick cock like a champ! Fernando realizes JD has a morning wood under the blanket and dives mouth first onto the hard pulsating dick. While painting Daxton's chest, Trey gets a little touchy which throws Daxton off but his cock is getting hard and Trey is on his knees painting when he notices the bulge. Andrew wants to make a morning fuck video and so unzips his pants and let's Emanuelk go to town on his long shaft. Finally, Sam And Drake head out to a hidden garage to get down to business until both shoot there hot creamy loads all over the place.