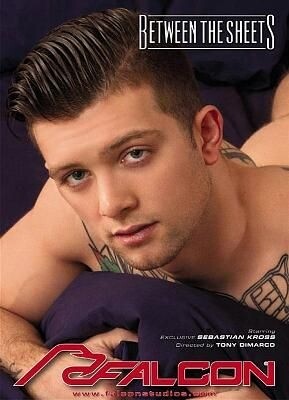 A quartet of meat-and-potatoes, couples-themed sexplay, tinged with romance, featuring eight handsome, muscular and thickly hung Falcon sex studs. Rising star Jack Hunter, gorgeous Sean Zevran and dreamboat Sebastian Kross are the highlights among a uniformly strong cast.
Sean Zevran is supposed to be training Zander Cole, adorable in his tight white briefs and nerd glasses, but they are inevitably distracted. Cole submits happily and eagerly to Zevran, bald, mocha-skinned and charismatic with a mouthwatering physique and a deep, masculine tone to his voice. He coats Cole's abs and pumped chest with semen.
Sebastian Kross and Andrea Suarez waste no time stripping down to briefs and jumping into the sack. Suarez is lean and ripped, while Kross is brawny and adorable; both are heavily inked and their sexplay is passionate and intense. Kross, especially, rides Suarez hard and aggressively. It's quite a sight. Another highlight occurs when Suarez expertly deepthroats his partner's formidable boner.
Handsome Jack Hunter, a rising star in the biz, shares a sizzling flip-fuck with Jacob Peterson, jock-next-door handsome with a furry chest and likable demeanor. He and Hunter are both low-key, intense performers and their chemistry is potent. Particularly effective is slurpy 69-action, as both men are tall and limber enough to make it work effectively.
The final vignette features thickly hung JJ Knight with smaller, smooth and compact Kyle Kash. Theirs is the most romantic matchup; they share a couples vibe with whispered words of encouragement and frequent bouts of passionate kissing. Kash rides Knight's thick boner with seemingly genuine enthusiasm and affection and blasts out an impressive cumshot.
Synopsis:
Get undressed and 'Between the Sheets' with these ripped Falcon studs. They're striking, they're horny and they were made to fuck 'Between the Sheets', on the sheets and anywhere that lets them get off. Tony Dimarco directs while eight horny studs pound out load after load in the bedroom. Zander Cole has plans to go to the gym but Sean Zevran has plans to work something else out: Zander's tight hole. Sebastian Kross puts his massive manhood to use on Andrea Suarez' perfect, muscular ass. All-American hunks Jacob Peterson and Jack Hunter have a spectacular flip flop that leaves both studs with balls completely drained. JJ Knight's big dick puts a big smile on Kyle Kash's face in their intense, connected sexual encounter.
close
E-mail this to a friend
Between the Sheets
Email sent. If you wish to send to another person, click here.