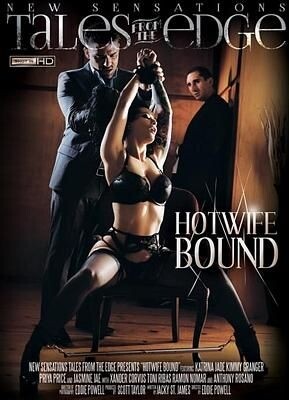 While this movie gives the outward impression that it involves heavy duty BDSM (just check out the awesome boxcover artwork), it's actually tame enough for couples, focusing more on the male performers giving orders to the bound ladies (usually just their hands are tied, and only for a brief while), with all four scenes featuring porn starlets worth checking out. But it's the opening interlude with the amazing Katrina Jade that really hits it right outta the park.
In that same incredible scene, Toni Ribas drives the awesome (in looks and attitude) Katrina Jade (24) absolutely bonkers. Each episode basically concerns a bent husband who wants to see his wife dominated and fucked by another guy (that's why they're called "hotwives"). And in a tasteful, moodily lit room (her home probably), Katrina is first seen sitting in a chair, hands bound behind her back, crying with ecstasy or pain (we don't know which), but we soon realize it's both, as a small white vibrator is stuck against her clit in her sexy underwear. Ribas shrewdly uses that device to his advantage, making Jade beg for his cock, on which he also makes her choke. There are rude noises and plenty of saliva before Ribas slams Jade's delectable, slightly meaty stripper's body in every conceivable position. What a great ass on Katrina, and those biggish, natural tits are amazing. She's so insanely into it all, too, ultimately, and quite dutifully, lapping up her invader's sperm from the hardwood floor.
This arousing movie is more passionately intense than it is physically rough, including one highly memorable blowjob from older buxom Brit Jasmine Jae (32); some steamily slinky sex from fresh young spinner Kimmy Granger (21); and plenty of rolling, jiggling flesh during the boisterous hammering of luscious Priya Price (24); but it's the showstopping Jade sequence that's truly awards-worthy and 'bound' to get you off in no time flat.
Synopsis:
Hoping to fulfill his wife's long-held desire to be bound, Katrina's husband chooses Toni to play out her secret desire as he watches. Priya and her husband bring back an old friend, Xander, for another hotwife session - except this time she'll be tied up and restrained. Married couple Jasmine and Eric get ready their next hotwife adventure, which has Jasmine preparing to be bound for the very first time. Kimmy, Ryan, and their friend Ramon are getting together for an adventurous sexual encounter. Only this time, Ramon asks to tie Kimmy up, and the couple gladly obliges.