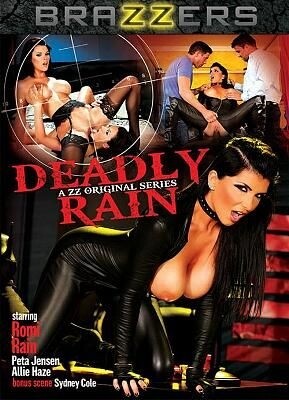 From Brazzers, this adventure/spy series features stacked, sexy, slutty little brunette Romi Rain (28, from Boston) playing an assassin (emphasis on "ass", both times), wearing a killer (figuratively, literally) black leather-like jumpsuit which conveniently unzips at the backside, allowing her maximum and constant room for cock, for which she lives (and, here, kills), with two must-see scenes being Romi's superb opening blowjob and her miniature but, nonetheless, super gangbang with three throbbing penises.
And speaking of that initial blowjob… we first find Romi (in outstanding makeup throughout the movie, by the way), sitting in a chair, her hands bound behind her in a slightly darkened, smoky warehouse, with a bunch of goons standing around in the background ready to work her over for info. By the way, all of the episodes from the series are totally out of order, so don't bother making sense of the story; rather, just sit back and enjoy the great sex. Anyhow, our major whore pleads with Jessy Jones to let her blow him. He accepts (who wouldn't?!), telling the other slobs to leave the room. After the boys begrudgingly depart, Romi herself works Jones over with her mouth: loudly, sloppily, deeply. And it's magical, trust us.
And the three-man gangbang?... It's a no-holes barred multiple schtup, with Romi letting Stallion, Toni Ribas and Mick Blue double penetrate her to their hearts' (and this tart's) content, marvelously passing her around like a piece of French pastry among starved gluttons. And, yes, she continues to impressively choke on cock throughout, in her own special, nasty way. Sure, the threesome between Romi, Allie Haze and Toni Ribas is an energetic and sweaty tryst. But this gangbang is even more passionate… and definitely far filthier.
Except for two technical glitches (unfortunately in the two scenes extensively discussed above), involving abrupt cuts during the sex, "Deadly Rain" is required viewing for Romi fans, while offering an excellent starting point for those curious about this exotic-looking, petite, but no less monolithic starlet.
Synopsis:
Romi Rain is the coldest cum-hungriest assassin in the San Fernando Valley. Horny but deadly, this hot hit woman uses every tool she's got to get the job done. But when her boss wants her gone, Romi has to fight, flee and fuck on a whole new level.