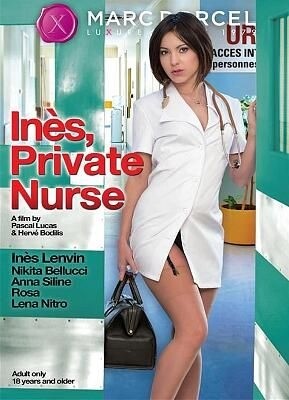 From France come these very hot vignettes from the life of horny Nurse Ines, played by the truly beautiful Ines Lenvin. Although her husband owns "a stud farm worth 2M Euros," she loves working at a hospital and doing house calls in her off hours. On one of these occasions, she urges special patient Mike Angelo to "hurry up, my husband's waiting for me" before a fast bout of anal sex.
Back at the hospital two nurses (Nikita Belucci, Alexa Tomas) find a patient (Joel Tomas) masturbating and decide to help him along ("He's got a nice cock!"). They both blow him and one sits on his dick — actually a very erotic scene.
At a house call at a country mansion Ines finds a visiting German couple. The woman finger-fucks Ines as the man watches and the nurse leaves with a smile on her face. "What gets you hot at that hospital?" her husband wonders.
Finally, a friend of his who owns a rugby team sets up Ines for a four-man locker-room gangbang. "You're going to fuck me now," she commands, "one by one." She takes them all on, in mouth and pussy and finally two DPs, then sucks off and swallows each man.
Synopsis:
Between emergencies, night shifts and home visits, Ines' schedule doesnt leave her too much spare time. With the money her husband Pascal makes, she could stop working if she wanted to. Since the couple moved to the countryside to escape from the city's stressful life, routine has sunk in. Just like all young women her age, Ines needs regular sex to open up, but since her husband doesn't touch her anymore, she has to seduce other men to get what she wants. Her home visits are just an excuse to meet men who are ready to give her the pleasure she's looking for...