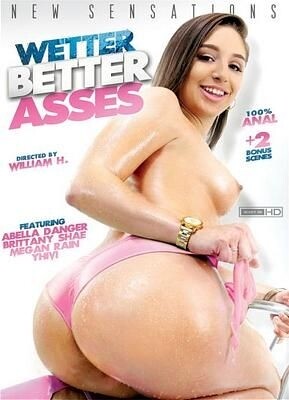 Here's a nasty gonzo that rocks! Simple as that. And each of the four featured girls in this New Sensations anal showcase shines both figuratively (with passion) and literally (with oil!) in her own special, slutty way; a highlight definitely being the ass-reaming of cute, exotic-looking Yhivi.
Actually, I really loved the initial butt blasting of juicy brunette Brittany Shae, with the cute luscious babe riding Jessy Jones' cock like there's no tomorrow, particularly in the cowgirl position, getting a super rhythm going. She loves it up her ass, of course, and is a fine cock-gagger.
Abella Danger puts in her usual animated performance, as Roman Nomar goes nuts on her — like he's never had a piece of ass in his life or something — first wildly drilling her mouth, then her ass, then vadge. The girls, by the way, begin each scene with some glamour-grinding stuff (before their actual stuffings), writhing, getting all oiled up, jiggling, bending over, stripping, et cetera. And during the actual humping itself, the guys get the ladies further greased up with bottles of lube. Nice touch.
Actually, I was slightly surprised to see how relatively low key Megan Rain was in her own particular scene, considering how insane she typically goes with on-camera cock; but, hell, this delicious-looking vixen is always worth watching, being such a super tramp who seems to sincerely loves it deep up her shithole. A true treat, however, is watching her get pooper-pumped reverse cowgirl, with those meaty thighs and that healthy cunt marvelously jammed right in our faces. Lovely!
But the best scene is with light-skinned, multi-racial, young, good-natured (after all, she's getting banged by Mr. Pete) Yhivi, who adores her oily schtupping, while also doing some of the movie's very best ATMs and blowjobs, period. She similarly digs getting her greased-up, big (but not too big) ass slapped in the doggie position. This happy, horny little angel is definitely one of my new faves. Don't miss her.
Hell, don't miss the entirety of "Wetter Better Asses," from superlative smut director William H. The whores really earn their money in this one!
Synopsis:
We hope you're ready, because this is the hardcore anal experience that you've been waiting for! Watch Abella Danger, Brittany Shae, Yhivi and Megan Rain get their succulent round bubble butts lubed, licked and crammed full of dick. For these super juicy asses, wetter is always better!