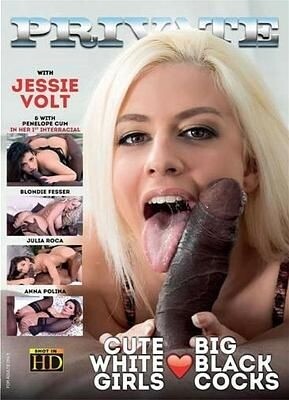 Here's a choice flick, which'll surely satiate both the couples and perv crowds alike. Despite its less than-discrete title, "Cute White Girls Love Big Black Cocks" is shot in such a professional, non-frenzied, tasteful (should that word even exist in the raunchy realms of porn?) fashion, that it'll please most classes of voyeurs. All five starring Euro girls (yes, you get five, not just the usual four sluts/scenes) are cute in their own ways and visibly enjoy their, at times thoroughly nasty work.
Russian sexpot Anna Polina starts things off, doing massive-boned Antonio Black when her husband leaves home for the day, with Anna doing some outstanding deepthroating, while stupend-ass-ly riding her crapper on Black's long snake.
A true Euro fave of mine, French babe Jesse Volt (even her name rocks!), is having a hard time taking her black hubby's monstrous chubby knubbie up her butthole, so we see her doing plenty o' vibe-up-the-hive experimentation, before the interracial couple successfully takes the poo plunge. The beautiful, all-natural, wiry Jesse is, as always, a marvelous (sloppy!) cocksucker and intense (no holes barred!) fucker.
Spain's Penelope Cum (her name going well with the movie's equally blunt title) supposedly does her first on-camera black-on-white scene here, with arousing results, particularly when she rides the bruthuh cowgirl style.
Also from Spain, the extremely attractive Julia Roca (who looks like a brunette relative of Jesse Volt) is massaging a black dude named Sensi with her hands, before she starts massaging the lucky bastard with her mouth, then her cunt. Julia has a fantastic body and appears to sincerely love blowing/riding/getting slammed via hard, throbbing, ebony penis.
Lastly, for all of you big bunda lovers out there, we have direct-from-Argentina Blondie Fesser, who knows how to work her protuberant butt while sitting on prick or getting doggied. Delightful slut. Nice big breasts to match her booty, too.
This "Private Specials" entry (can you believe they're at #134?!) is a slick yet sleazy winner. And don't you just love that DVD box cover?
Synopsis:
These hos go crazy at the sight of a heavy ebony shaft; and waste no time impaling themselves on it to see how much they can cram inside!